Introduction
SolidWorks is a popular CAD tool, that is used by millions all around the world. The SW2008, program's latest version, has been given a new look in order to make the 3D modeling process easier both for experienced and new users. The "View" menu section is now visible constantly, giving you better control over the presented model both during the sketch phase, the feature phase and editing phase. After reviewing the "Sketch" procedure and entities, we are now looking into this novelty.
The view menu
The view menu has several "parts" in it
Zooming (zoom to fit, box zoom)

Previous view

Section view

View Orientation

Display style

Show/Hide options

Photoworks options (an advanced feature that will not be discussed here)

View Settings
We will examine each one of them below.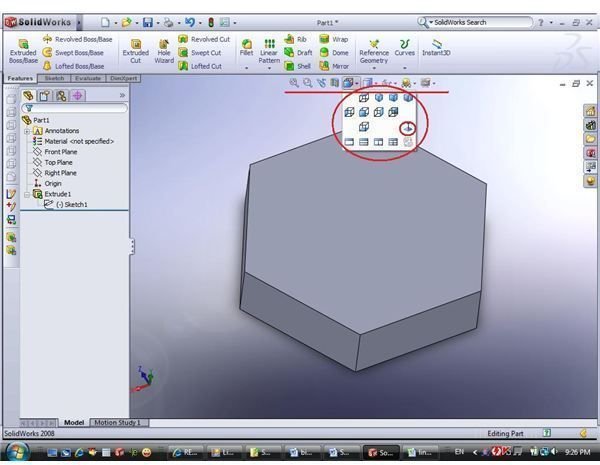 Zoom
There are 2 zoom options available right away – zoom to fit, which makes the entire model visible on your screen, and zoom box, which enables you to define a rectangle to zoom into.
View Orientation
The view orientation tab of the view menu provides us with numerous options for model view:
Top – Showing the model from above

Bottom – Showing the model from below

Right – Looking at the model from the right side

Left – Looking at the model from the right side

Front – Model face view

Rear – Model view from behind

Normal to – This is a useful feature, making your view normal to the selected models pane/plane and enabling you to construct sketch on it very conveniently. Once you clikc this button, you are prompted to choose a plane. Alternatively, you can select the plane/pane first –in that case the button will make your view normal to that selection.
More options exist for 3D views:
Isometric

Dimetric

Trimetric
In addition, view orientation options deal with window layout, providing us with multi-model view options:
Single window

2 view – horizontal

2 view – vertical

4 view – aligning 4 different SW windows
Previous view
You can also use the menu as an "undo" and use the "previous view" button to go back to the previous view of your model.
Summary
This concludes the first part of view menu overview. In the next article we will deal with display style and look into the procedure of Section creation.
This post is part of the series: CAD modelling with SolidWorks 2008
Are you a CAD user? An engineer? Product designer? What software do you use? Try SolidWorks – and you may never want to switch back… Already a SW user? This series will give you some useful tips about the latest version, SolidWorks 2008.