Commercial Energy Usage: Learn about Emission Levels of Commercial Buildings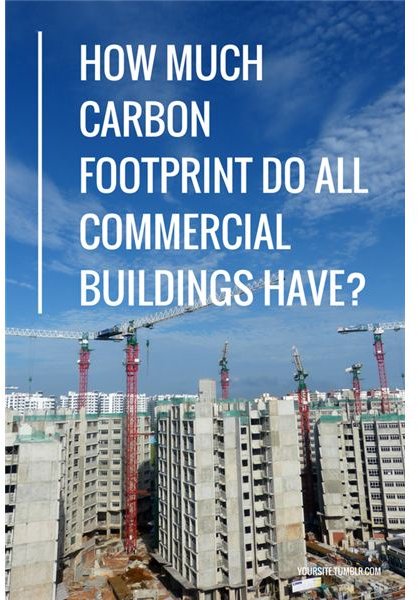 When it comes to carbon dioxide emissions in particular, commercial and residential buildings account for nearly 40 percent of the total. That's more than any other single emissions source. That figure only includes emissions attributed to direct fossil fuel consumption -the emissions associated with the buildings' heating, cooling, lighting, and other systems. When carbon emissions from other sources are considered, for instance, the emissions associated with creating and transporting building materials, the impact iseven larger.  
On the Rise
Emissions levels show no sign of slowing down, either. According to one analysis, CO2 emissions from commercial buildings will grow by 1.8 percent per year through 2030, the largest per-year increase of any carbon emissions source. By 2040, the combined floor space of commercial buildings will expand to 109 billion square feet, which is a 32 percent increase over 2013 levels. This large and growing carbon footprint is accelerating the impact of climate change. Scientists predict that by the end of the century, global temperatures could increase by more than 5° C. Increasing temperatures will contribute to drought, food scarcity, mass human migrations, sea level rise, and armed conflict around the world.
Reducing Emissions
For the global community to effectively grapple with climate change, it is important to identify ways to reduce carbon emissions from commercial buildings. According to the U.S. Green Building Council, if half of all buildings were built with 50 percent more energy efficiency, it would save over 6 million metric tons of carbon dioxide per year over the life of the building, which typically lasts 50 to 100 years. That's the equivalent of taking over a million cars off the road each year. Not all commercial buildings use energy at the same rate or in the same ways. The mercantile and service industry (which includes dry cleaners, gas stations, car dealerships, malls, and big box stores) uses about 15 percent of all the energy consumed by commercial buildings. Office space (for banks as well as professional and government offices) accounts for the next-largest rate of energy consumption. Along with education, healthcare, and lodging, these categories account for about 50 percent of all energy use in commercial buildings. Despite these differences, there are many ways to reduce the collective carbon footprint of all commercial buildings, no matter their purpose. The USGBC has developed a set of standards to help architects and building planners develop more sustainable buildings. Building projects that conform closely to these standards receive ratings based on a variety of metrics, including their energy use, water consumption, and impact on air quality. The points in each category are then tallied to award the building a final rating of either certified (the lowest rating), silver, gold, or platinum (the highest rating). This rating system, known as Leadership in Energy and Environmental Design (LEED), helps commercial builders of all kinds find ways to save both energy and money. LEED standards have been applied to retail buildings, hospitals, data centers, warehouses and schools, among other commercial building types. A similar program, the Better Buildings Alliance, encourages commercial building proprietors and companies to improve energy efficiency, with an aim toward a 20 percent reduction in energy use over 10 years. Started in 2009, the program now has 200 members representing a range of industries, including healthcare, higher education, food service and retail. While most green building efforts focus on commercial building projects that are under development, there are also significant opportunities for existing commercial buildings to reduce their carbon emissions. A 2010 study found that most commercial buildings could reduce their energy consumption by 20 to 30 percent without undertaking significant design changes. Reducing the energy use and carbon footprint of commercial buildings isn't just good for the environment and human health. It also makes sounds economic sense. The green building industry employs over 2 million workers -more than the entire U.S. film industry. The industry directly contributes over $75 billion in wages and a median of $1.3 billion to state economies each year. LEED-certified buildings have yielded over $54 million in waste savings, almost $150 million in water savings, and $1.2 billion in energy savings.
About the Author:
Kyle Pennell is the Content Manager at PowerScout we help homeowners figure out if installing solar is right for them and get competitive bids from multiple installers. Our long-term mission is to accelerate the adoption of solar (and other smart home improvements), which will help mitigate climate change.