Inspection of a Marine Gas Turbine Boiler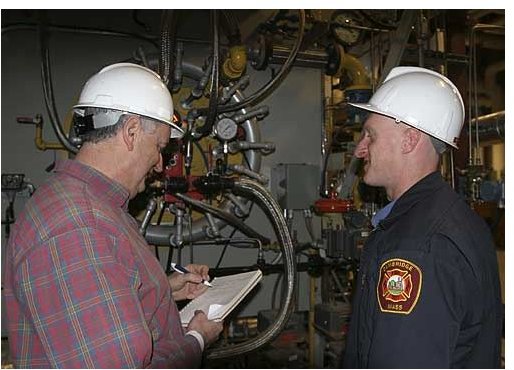 Boiler Inspection
Introduction
Normally boiler inspection will be carried out onboard the ship by a port state control and during the dry dock. They are used to carry out the inspection and see the working condition of the boiler. During the inspection they will conduct an in-depth analysis of the boiler condition considering various factors to find the working condition of the boiler. If necessary they will replace damaged parts of the boiler needed for continued safe operation.
Need For Boiler Survey or Inspection
Boilers are inspected to maintain the Class requirement.
Regular internal inspection and external examination during such survey constitute the preventive maintenance schedule the boiler goes through to have a safe working condition.
Frequency of Boiler Survey
Water tube high pressure boilers are surveyed at two year intervals.
All other boilers, including exhaust gas boilers, are surveyed at two yearly intervals until they are eight years old and then surveyed annually.
Planning for Boiler Survey
Confirm time available, manpower, and time required.
Check before shutting down boiler.
Check for spares e.g. manhole door joints, gauge glass, packing and steam joints.
Check the tools required e.g. gagging tool, torque spanner, rope, chain block etc.
Check manual for special instruction and past records.
Steam requirement for the next port should be considered e.g. Tankers require steam in discharged Port.
Briefing to other engineers of work involved.
Shutting Down the Boiler for Inspection
Before inspection is to be carried out, the boiler which is firing should be shut down. These are the steps to be followed before shutting down the boiler for inspection.
Inform the chief engineer and inform the duty officer in the bridge.
Change over M/E, A/E, and Boiler to diesel oil.
Top up diesel oil service tank, stop heavy oil and lube oil purifiers.
Stop all tank and tracing steam heating and carry out soot blowing.
Change over from automation to manual firing of boiler.
Stop the firing of the boiler and purge boiler for three to five minutes.
Switch off power and off the circuit breaker for forced draught fan, FO pump, feed pump, and combustion control panel. Hang necessary notices.
Shut main steam-stop valve and shut all fuel valves to boiler.
Let the boiler cool down, do not blow down now.
When the boiler pressure is about 4 bars, carry out blow down.
When boiler pressure is slightly higher than atmospheric pressure, open the vent cock to prevent formation of vacuum.
Let the boiler cool down.
Once sufficient cooled, open top manhole door first with all safety precaution.
Mark the nut on the top manhole, slacken the dog-nut, and secure it with a rope.
Knock the manhole door gently, but do not open it as it may contain steam or hot water.
Conform nothing coming out; open the door fully with the help of securing rope.
Do not open immediately open the bottom door, since the boiler is still hot and if opened relatively cool current of air will pass through the boiler causing a thermal shock.
Allow further cool down before opening bottom manhole door.
Open the bottom manhole door with the same precautions and open the furnace side door also.
Ventilate foe period of 12 to 24 hours.
Then check for oxygen, flammable vapor, and toxic gasses.
If it is safe, prepare for entry.
Shutting Down Boiler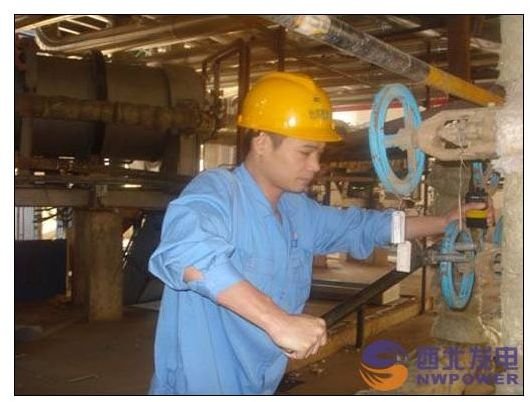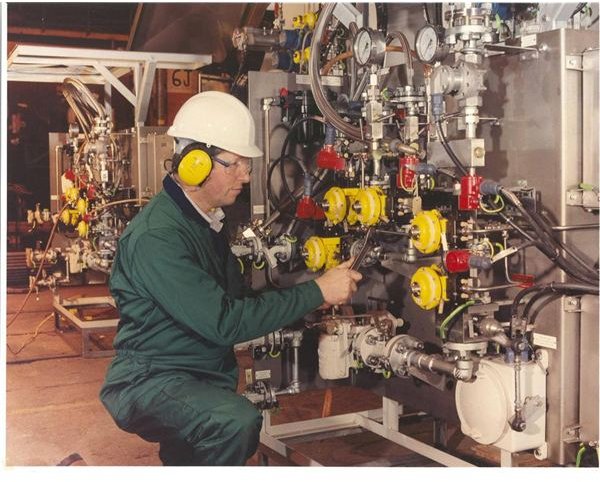 Prepation Before Entry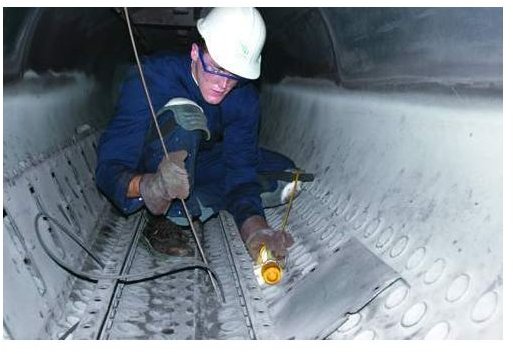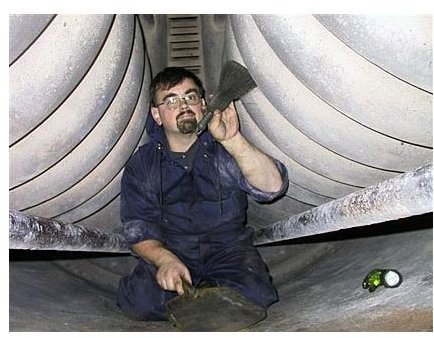 Preparation for Entry
These are the steps to be carried out before entering the boiler for inspection.
Prepare a long rope, wooden plank oxygen analyzer, safety hand lamp, and safety torch attached with rope.
Get a pouch to carry tools and keep track of the number of tools to be brought into boiler.
Personnel safety protection wear, e.g. helmet, safety shoes, hand gloves, etc.
No extra instruments to be brought in and clear pocket contents as it may fall into boiler.
Keep an emergency breathing apparatus ready.
Remain in communication and ensure proper lighting.
Check boiler internals before making an entry, e.g. foothold and handhold.
Image Credit :
https://www.npgc.net/english/listshow.asp?mid=140&cuflag=0
https://www.hohwatertechnology.com/HOH_Page/The_Right_Chemistry.htm
https://www.wellman-robey.com/Boiler_Service/Boiler_Training/default.aspx?id=335
https://www.cambridgema.gov/cfd/proilburn.cfm
https://www.ssmaster.org/Engine-Room.html
This post is part of the series: Inspection Carried Out in Marine Boilers
In this series let us discuss about the inspection or survey carried out in the marine boiler at regular interval, along with the scope of inspection. The inspection on the marine boiler parts are carried out starting from the Furnace, Economizer, Boiler Mountings and finally on boiler superheaters.