Maritime History of Canada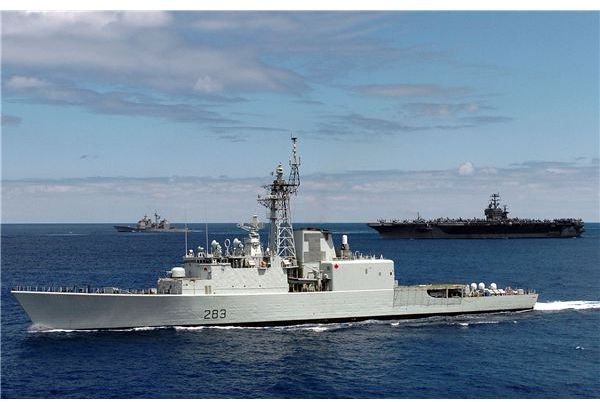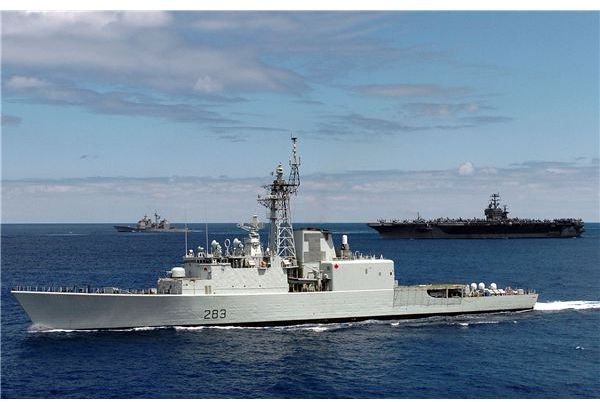 Canada is a country located in the northern part of the continent of North America. Its naval forces have both domestic and international roles. In the past two world wars, the Canadian Navy played significant roles. At present, the Royal Canadian Navy is an active member of the joint Canada-U.S. and NATO exercises worldwide. One of its primary objectives is to ensure control of the Canadian coasts extending into the Atlantic and the Pacific. In the following, naval accomplishments have been categorized into four categories: Pre-World War I, World War I, World War II, and Post-World War II.
Pre-World War I (1910-1914)
In May 04, 1910, Canada's Naval Service department was created. HMCS Niobe and Rainbow were purchased to be used for training and a naval college was built. Since its foundation in 1910, as a new institution, the first recruiting posters for the Royal Canadian Naval Service were issued in February 01, 1911. Across Canada, able bodied Canadians enlisted to be part of the Royal Canadian Navy, which was the new name given to the service by King George V by royal assent in 1911. Also in June 1911, Commander Walter Hose assumed the post as the commander of the cruiser HMCS Rainbow.
World War I (1914-1918)
Sometime in March 1918, the Admiralty decided to setup air defenses on the eastern coast of the territory to deter submarine attacks. In June 1918, additional air forces were deployed to build-up defensive operations in the east coast.
World War II (1939-1945)
June 06, 1944, about 110 naval ships and vessels and an estimated 10,000 Navy personnel joined to take part in the invasion of Normandy. Also on June 06, 1944, a new Canadian naval ship called HMCS Kokanee (K-419), a River class frigate, was deployed.
June 21, 1940, HMCS Fraser (H48) played a key role in the evacuation of French troops from France.
Another victory for Canadian Naval Forces was the sinking of an Italian submarine on November 6, 1940.
April 14, 1944, HMCS Swansea (K328) along with a British vessel sunk U-448, a German submarine, in the North Atlantic.
July 31, 1942, HMCS Skeena and Witaskiwin began to hunt and later destroyed U-588.
October 17-18, 1944, in Greece, HMCS Prince Henry and HMCS Prince David took part in the deployment of liberation forces.
October 18, 1940, HMCS Skeena helped in the rescuing of six survivors from the SS Bruse. which was damaged by a torpedo.
September 1, 1942, HMCS Morden (J170) destroyed U-756 as she escorted SC-97.
When Germany invaded Poland in September 1, 1939, the Royal Navy, Reserves, and Volunteer forces of Canada were placed on active service.
September 14, 1939, another German submarine U-39 was destroyed by HMS Foxhound. It became known as the first U-boat destruction. A German commercial vessel called Weser was also captured by HMCS Prince Robert.
February 8, 1943, an Italian submarine called Avorio was sunk by HMCS Regina.
A German U-boat (U-224) was sunk by HMCS Ville de Quebec (K242) in the Western Mediterranean on January 13, 1943.
Another successful German U-boat destruction happened in January 8, 1944 by HMCS Camrose (K154) and HMS Bayntun (K310) in the North Atlantic.
HMCS St. Croix (I81) inflicted fatal damaged to German U-boat U-90 in July 24, 1942.
April 30, 1943, Admiral Murray became the commander of the Atlantic Coast.
By the end of World War II, the Royal Canadian Navy had become the world's third-largest navy. Only the United States Navy and the Royal Navy were larger.
Post-World War II (1946-Present)
In June 1974, the Canadair CP-107 Argus, a Cold War-era anti-submarine patrol bomber, established an air endurance record for non-refueled flight. The plane flew for 31 hours and 1 minute in the air without refueling.
On June 19, 1951, HMCS Cayuga started off on its last sail and completed her tour of duty in UN Korean operations.
February 11, 1957, HMCS Magnificent (21) transported Canadian personnel for the UN operations for the Suex Crisis to the border of Israel and Egypt.
May 30, 1964, Annapolis-class destroyer HMCS Nipigon (266) was lauched. She fulfilled various training missions for most of her useful lifetime.
January 29, 1973, HMCS Terra Nova helped to aid Canadian ICCS personnel for eventual evacuation in Vietnam.
Since 1968 the Royal Canadian Navy has been part of the combined "Canadian Forces," which includes the Canadian Army and Air Force under one command structure.
Conclusion
Canada is by far one of the great maritime countries in the world, and its naval forces, both versatile and combat trained, continuously excercise control over the Canadian coasts and offshore environments. The Canadian Navy fleet is part of the Maritime Forces that controls all military activities in the Atlantic and Pacific. Activities include military deployments, operations, and exercises.
References