What Marine Engineers do?
Depending upon the size and type of a ship, the numbers of Marine Engineers vary. But the minimum number of a ship's complement is decided by the Safe Manning certificate.
As per that, for an Ocean going vessel, it is mandatory to have the Engine department as follows:
Officers:
Chief Engineer—-
Second Engineer
Third Engineer
Fourth Engineer
Ratings:
Machinist
Oiler
All Engineering officers are internationally certified competent officers capable of carrying out the shipboard duties as required.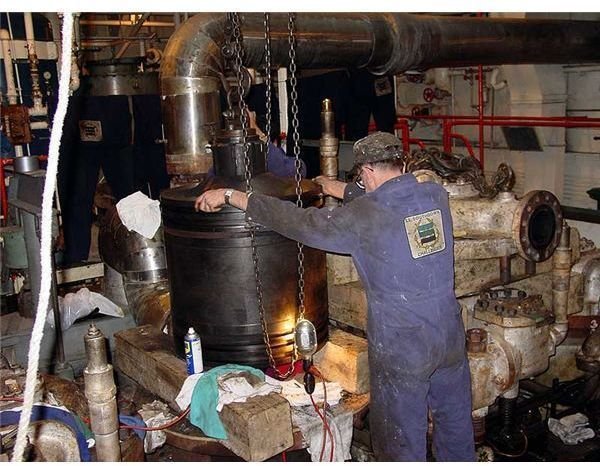 Chief Engineer:
He is the Head of the Engineering department, more precisely the management head of the engine department. It is necessary for him to have enough experience and knowledge associated with practical skills to do every possible thing to keep the ship propelling and reach port safely and efficiently. He is the decision maker for anything associated with machinery or technical issues.
Second Engineer:
He is the operational in-charge of the machinery spaces (engine room). He obeys the order of the Chief Engineer and executes all the necessary maintenance, trouble shooting, safe and efficient operation of all the machineries of the ship. He is like the team leader for the Engine department. He has all other engine room staffs under him to assist him to perform his duties. He is also responsible for safe watch keeping for the period allotted for him. He is also a management level officer, totally in-charge for main propulsion machinery, steering gears, and other associated auxiliary machineries.
Third Engineer:
He plays a key role as he is a part of both operation and management team. He is usually the shipboard safety officer. He takes cares of Boilers, generators and some of the other auxiliary machineries. He is also responsible for many other important aspects like boiler water testing, cooling water tests, and assists second engineer during major maintenance works. He is in-charge for main propulsion machinery's cylinder head mountings, etc.
Fourth Engineer:
He is the junior most certified officer responsible for carrying out safe and efficient engine room watch. He is totally responsible for all MARPOL related machineries and equipments like Sewage treatment plant, Incinerator, Oily water separator, and other auxiliary machineries like Air compressors, fresh water generators, and other engine room pumps. He is totally in-charge for sludge and bilge management, which is usually a big head-ache in most of the vessels.
Machinist and Oiler are not engineering officers, but they are ratings who assist them in performing their duties.
All the above Marine Engineers are certified (licensed) to perform their job in safe and efficient manner. All of them are mostly Engineering Graduates either in Mechanical Engineering (combined with a year of ship based studies) or Marine Engineering. Their studies are similar to mechanical engineers but the specialization is exclusively on marine diesel engines and steam turbines. Their study also include boilers and other power plant machineries like generators, pumps, compressors and many other machineries depending upon the type of ship. They also excel in automation and instrumentation as the ships are so huge and manual operation with limited number of crew is difficult in these days. They also maintain air-conditioning plant for accommodation cooling and have reefer plants to store fishes and meat at -20 degree Celsius approximately. Most of the control systems are pneumatically operated and they are masters in that field too. So in short, we can say that these handful of extremely hard working people are trained for meeting all challenges at sea by themselves without depending on specialists as in shore. Any problem related to any machinery in mid-oceans, they can rectify and bring them safe ashore.
Thus it is very interesting to see that Marine Engineers are "Jack of all Engineering branches."
This post is part of the series: Marine Engineering-Areas of Specialization and a brief history.
Have you ever wondered what marine engineers do on board a ship? Read here to know about the areas of specialization of marine engineering studies and appreciate the hard nature of work both theoretical and practical skilled work done by marine engineers on board a ship.