Introduction:
We all know that Education is very essential for knowledge enhancement. It is only with the help of education we acquire sufficient knowledge to handle any complex scientific processes or manage huge business organizations. When we hunt for the roots of all these modern day educational options like nanotechnology, mechatronics, robotics, and space sciences, all end up in a single origin called "Engineering." A few decades ago, we had only few branches of engineering sciences like Civil, Mechanical, and Electrical Engineering etc. But this modern world created a need for specialization in each and every corner of the Engineering field. This has lead to new developments in engineering studies, making many new forms of engineering related to different fields like Electronics and Instrumentation Engineering, Nuclear Engineering, Naval Engineering, and many more. One such new branch is Marine Engineering. In this article, let us understand the areas of specialization and the main subjects to be dealt with when undergoing a graduation in Marine Engineering.
Marine Engineers- A Brief History.
M—Mechanical.
A—Automation and Control.
R—Refrigeration and Air-conditioning.
I—-Instrumentation.
N—Pneumatics and Hydraulics.
E—Electrical and Electronics.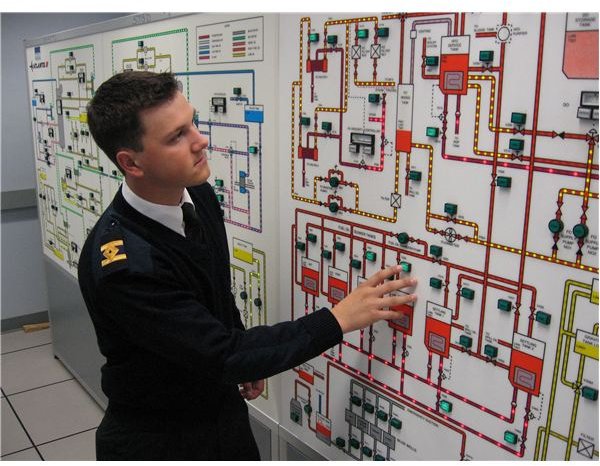 The above acronym is not an exaggeration, but it is true when it comes to Marine Engineering. Marine engineering is the only branch of engineering where there is 100% emphasis on both practical skills and theoretical knowledge. Earlier, ships had sails (a piece of canvas or cloth tied to the mast), and they navigate with the help of wind force. It is only when the wooden ships where replaced with steel structures; the alternate means of propulsion was sought after. A huge construction made of steel cannot be propelled with the help of wind force. It is this reason, diesel engines and steam turbines where tried as main propulsion machinery.
It was only the "Captain" who had the entire responsibility of the olden day's wooden ships. No Engineers where required to navigate or operate a wooden ship which is propelled with the help of wind force. After the introduction of steam turbines and diesel engines as main propulsion machinery for these huge steel structures, there was a huge demand for Engineers to operate these complex power plants inside the ships. This can be considered as a short history for the evolution of Marine Engineers.
Earlier when all machineries where manually operated with no automation and other forms of control systems, it was just illiterate workers who operated the ship's engines. Neither the navigation department nor the engineering department where qualified enough as like other fields. But it was from 1960's, the scenario started changing. The development in ship building and other associated technology including the routine operation of ships demanded huge potential and talent from the human work force. This made the introduction of various forms of trainings which are exclusively for the people who serve onboard a merchant vessel. The recent trend demands not only highly qualified, but also practically skilled people to operate a ship in a safe and efficient manner. No ship owner will hand over a ship costing over $200 million in the hands of inexperienced and incompetent people. Currently the growing environmental strictness has made the Engineers to be specially trained to follow the MARPOL rules and regulations.
Thus it is evident that the modern ships require highly competent people to operate and run the machineries in a safe and efficient manner. In my next article, let us discuss on each and every engineer's duties onboard and their responsibilities. Emphasis will also be made on the areas of specialization and the nature of work onboard a merchant ship.
This post is part of the series: Marine Engineering-Areas of Specialization and a brief history.
Have you ever wondered what marine engineers do on board a ship? Read here to know about the areas of specialization of marine engineering studies and appreciate the hard nature of work both theoretical and practical skilled work done by marine engineers on board a ship.