Introduction
The name Freedom of the Seas cruise ship may sound like a naval war ship but the meaning is aptly personified. It's a mean to get away from a usual depiction of an urban city to one of an ultra modern city, a city like never before. "City", "ship", "freedom", "sea", "land", it's it hard to envision a picture consisting of all these words together? Huh!! So what is the talk and project all about. Read on.
Just imagine a cruise ship which is four times the length of Queen Mary, the largest ship in the world. Now, imagine a floating city. A city that has all the ultra modern amenities that a normal city has, from airports to stadiums, from hospitals to health clubs, from shopping malls to state of art entertainment and recreational facilities. Now imagine the whole city floating on sea, globe trotting, going from one shore to another. A bit tough to believe?? But that's the concept of the freedom ship. A city that is away from the land. A community on the sea.
It's like a normal city having commercial and residential areas. This means that it would be a commercial and business hub too. Not only that, companies will be displaying and selling their products on the ship like they do in any other market. It would also be having duty free international shopping malls. Of course there would be many job opportunities in such a ship.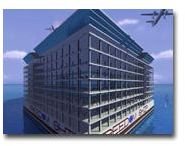 Dimensions, design and infrastructure
The designated dimensions of freedom ship are as follows
length: 4500 feet

width: 750 feet

height: 350 feet
The ship will have twenty five stories above its broad main deck. The top deck will have an airport, which will be a host to both commercial and private planes. It will have all the basic amenities such as schools, airports, banks, libraries and also high-end recreational centers such as casinos, pubs, bars, restaurants, clubs and athletic facility centers. The around the world route will take approximate 2 years to complete.
It would have a 100 foot wide deck and also 200 acres of open area for recreational activities. The ship would have a flat hull and considering its size, it would provide greater stability and will be able to sail smoothly through the roughest sea. The hull will also have 600 inbuilt section which would be water and airtight, to provide maximum safety possible. It would have a highly enhanced fire system, making it literally a fire-proof ship. It would also have electrostatic ventilation system which will provide unpolluted and pure air.
Apart from that, it would have inbuilt water bodies such as ponds, water falls and even sea water aquariums.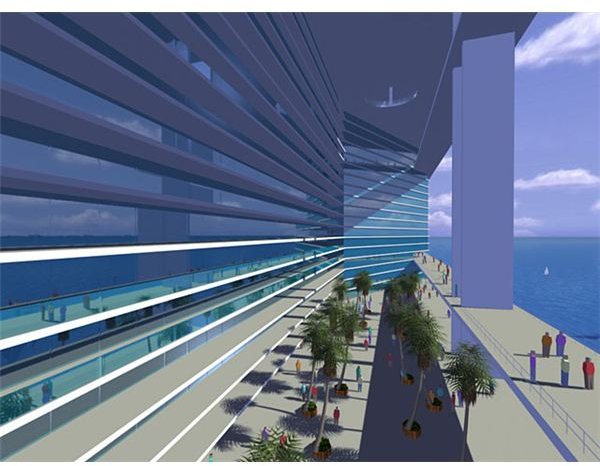 The purpose of freedom ship
The makers think that freedom ship will be an ideal place to live, work, play and also to have vacation and make new contacts. Thus their aim is to provide a highly secure, safe and ultra modern city which would attract commerce and business from all over the world. It would facilitate people with different cultures and languages to interact with each other, make contacts, expand their businesses and have fun at the same time.
The ship on its way will halt at many exotic and beautiful places which can be accessible only by sea routes. It will also be halting at all the major ports and destinations of the world and thus providing entrepreneurs and businessmen from various countries to present their business and products and also provide an opportunity to venture new dimensions.
The main attraction of the ship would be its massive duty free shopping centers. All the businesses and products will be exempted from all kinds of tax, making it advantageous both to the businessmen and also to the customers. Apart from the commercial aspects it's been predicted that the residents when living on ship will produce 80% less waste then they would usually do when living on land.
Though from the facilities and the lifestyle the ship will provide, it seems that it will be the hottest destination for the rich and the famous, at the same time it will also benefit all the visiting businessmen and entrepreneurs to bring their businesses to a all new different level. For this purpose the ship has a capacity of 40,000 onboard residents, 10,000 crew members and a guest capacity of 10,000. It can also accommodate 30,000 visitors on a daily basis.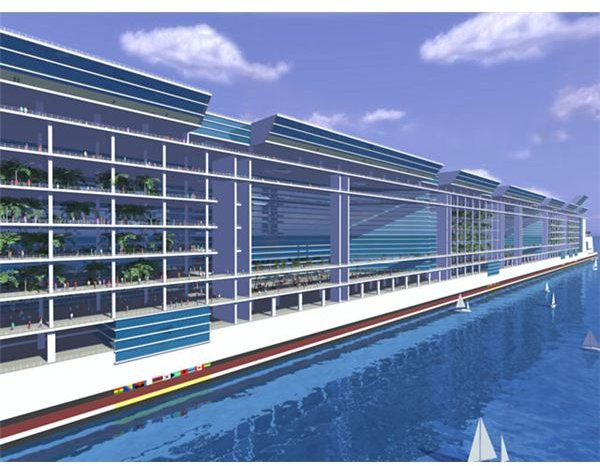 reference
images
www.freedomship.com