Jobs on a Cruise Ship - ways to earn money on ship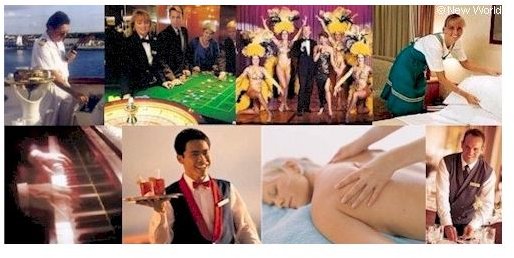 Why a cruise job?
Hardly is there a job that gives you the privilege of working and having loads of fun at the same time. Think about a job where you can visit exotic places while you are working, meet interesting and highly influenced people from different cultures and at the same time be a part of some out of the world fun, frolic and adventure. Sounds amazing? But that's not all. What if along with this you get an extremely good salary and you don't even have to shell out a single penny from your pocket for your accommodation and food. Sounds unbelievable right? Well, its true and that is what makes the cruise jobs one of the highly sought after jobs. Want to know more the types of jobs available? Want to be a part of this exciting career? Read on..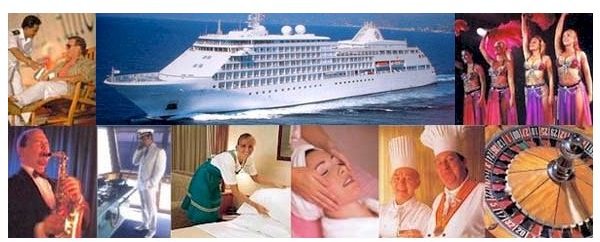 What are the types of jobs on a cruise?
The cruise ship is one giant entertainment hub.A city made for fun,adventure and entertainment. There are hundreds of different activities taking place at the same time and all these activities require people to organize,manage and conduct them. As a result a myriad of working professionals are required on the cruise. There is opportunity for people from almost all types of working backgrounds.
Want to know where do you fit? Just choose from the different types of ship jobs enumerated below:
1)Engine department - This is the department that runs the ship. The engine personnel look after the operation and maintenance of various machinery of the ship. The jobs offered by this department are: Chief engineer, 2nd, 3rd and 4th engineer, trainee or 5th engineer, motorman, electrician, fitter, wiper and plumber.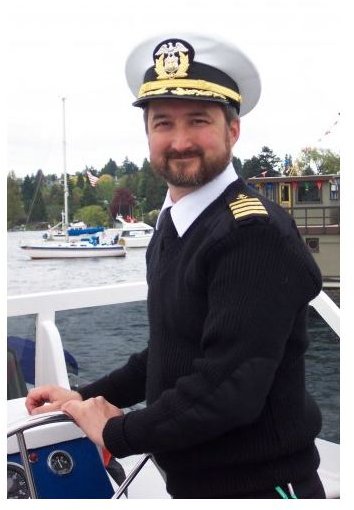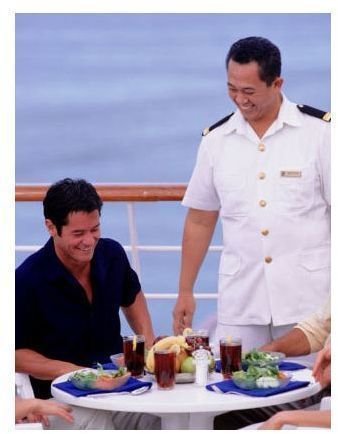 2)Deck department- The deck department looks after the navigation and other necessity of the ship. The jobs offered by this department are: Chief officer, first, second and third officer , safety and security officer, cadet, seamen and boson
Hotel operation department- This department looks after the hopitality of the whole hotel department of the cruise. The jobs offered are: purser, chief purser , assistant purser, receptionist, crew purser , shore excursions manager.

House keeping department - Cleanliness and maintenance of accommodation and entertainment areas is done by this department. Jobs offered are : stewardess, steward, room service attendant, laundry staff, pool attendant etc.
5)Food and beverage department- Looks after the supply, arrangement and serving of food and beverages. Jobs offered are: Director, Maitre D' , waiter , bartender , bar staff , buffet steward etc)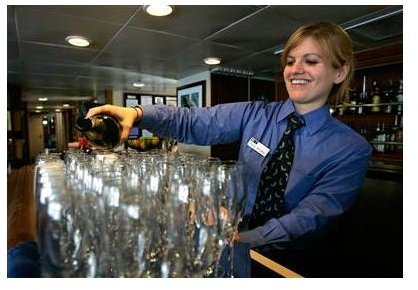 6)Galley department - Looks after the all types of food preparations. Jobs offered are : Chef, executive chef , first cook, second cook , pastry chef , butcher , dishwasher etc
7)Medical department - Provides medical facilities to passengers and crew. Jobs offered are : doctors , physicians , nurses etc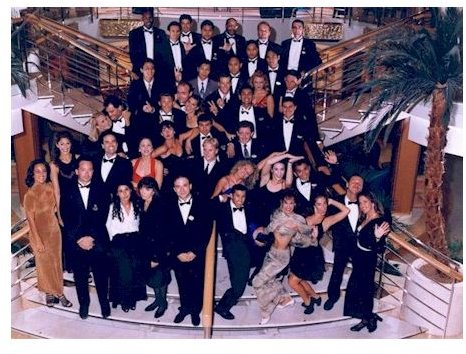 8)Information technology department - Deals with IT system of the ship. Jobs offered are : hardware and software technician , internet services technician etc
9)Entertainment department- Represents highest number of working professionals. Jobs offered are : actors, comedians, singers, dancers, musicians, disc jockeys , stage managers, event managers, sound and light technicianetc
10)Beauty Salon department - Jobs offered are : beautician, hair stylist, hair dresser , masseuse, masseurs, cosmetologist etc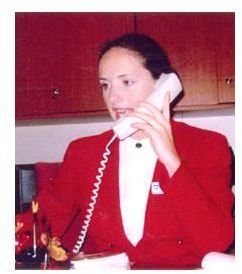 Casino department - All cruise ships have casinos and there is a huge demand for experienced people. Jobs offered are : casino manager , cashier , slot technician , accountant etc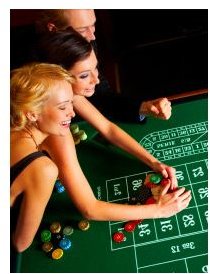 Cruise staff department - It comprises of managerial positions and professional trainers . Jobs offered are : cruise director , assistant cruise director, aerobics and fitness trainer , golf instructor , scuba diving instructor etc

Photo and gift shop department - Deals with onboard shops and photography department - Jobs offered are : photographer , shop manager, shop assistant etc.
More jobs in near future
The jobs listed here, is just a glance as to what kind of jobs are there that are available on a cruise ship. Cruise industry has been termed as the the fastest growing industry and as the companies increase the number of fleets, the number of jobs available will also increase significantly. A research says that by the end of this year the number of new cruise jobs available will reach 47,000, which is not at all bad looking at the current global depression. So if by chance you are thinking of getting yourself a cruise job, probably this is the right time to apply.
References
Cruise ship employment guide 2009 by www.cruiselinejob.com
images
https://www.888-go-longy.com/images/200314859-001_cruise_worker.jpg
https://www.crewfile.com/images/comprofiler/plug_profilegallery/5941/pg_929290305.jpg
https://www.cruiseshipjob.com/cruisejobs2.jpg
https://msnbcmedia1.msn.com/j/msnbc/Components/Photo_StoryLevel/071105/071105_hiring_hmed_1p.hmedium.jpg
https://www.cruiseshipentertainment.com/entdptm1.jpg
https://www.cruiseservices.co.uk/img/up/12131004-assistantconsi.jpg
https://www.carnival.com/cms/images2/fun_job/casino.jpg