What are Spherical Roller Bearings? Classification of Bearings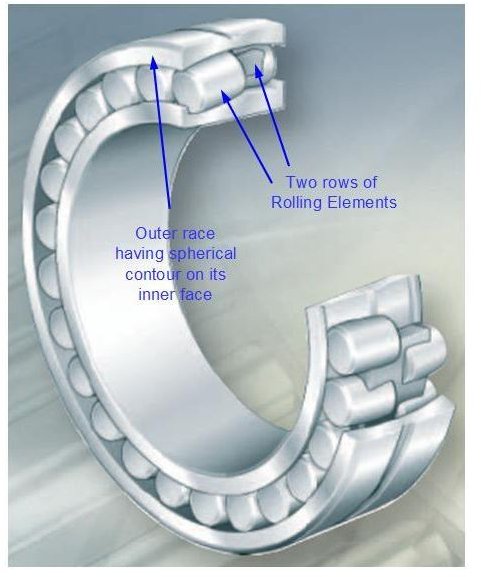 Various kinds of bearings are available having double row rolling elements as an additional option, but Spherical Roller bearings are an exception that always have double row of rollers as standard in construction.
Constructional Features of Spherical Roller Bearing:
· They have two rows of rollers with a common sphered raceway in the outer ring of the bearing and hence the name spherical roller bearing. The sphere shape is concave on the outer race.
· The rolling elements of the bearing are normally barrel shaped and hence these bearings are also called as "Barrel Roller Bearings".
· The inner ring races are inclined at an angle to the bearing axis.
· Constructionally, the bearings are self-aligning and are consequently insensitive to changes in the alignment of the shaft relative to the housing. They also have the ability to take of shaft bends to a certain extent. Based on the type of the series these bearings can handle misalignments upto 2.5 Degrees.
· They construction enables them to take up combined (axial and radial) loads in both the directions.
· Due to the conformity of the concave surface in the outer race and the convex surface in the inner race, a uniform load distribution is attained in the bearing.
· Cages like other bearings is available in this bearing to ensure the proper placing and holding of the rolling elements and preventing them from bumping against each other. The cages are normally separate for each row of the rolling element.
Variants in Spherical Roller Bearings:
There are not much variants in spherical roller bearings except of the type of cage material being used in the bearing. Some of the types of cage materials that are used are
Brass Cages
Glass Fiber reinforced Polyamide Cages.
Sheet metal cages.
The specification for these change in cages normally vary from manufacturer to manufacturer. You may kindly verify the manufacturer's catalogue for further information.
Technical Specifications:
The bearings of this series are normally denoted with '2' as the first number indicating the bearing series. For example 22311 is a spherical roller bearing number.
Specific indication related to the type of cage material is specified as suffixes to the number.
This post is part of the series: Types of Bearings
This series will introduce and explain on the various kinds of bearings that are available and are being used. This series will cover all the kinds of bearings with their constructional, working and special aspects of each type of bearing.