What are Tapered Roller Bearings: Types of Bearings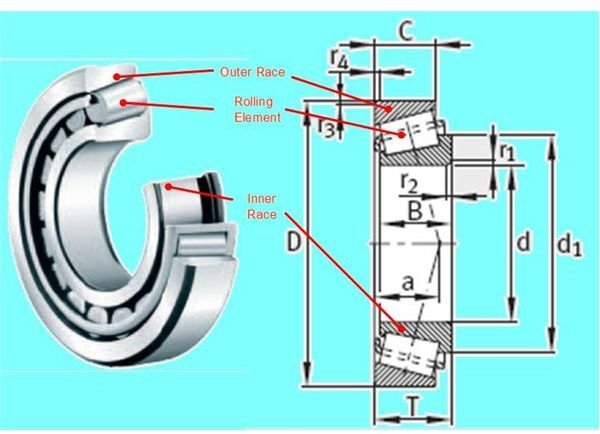 In common all bearings are normally named after the type of rolling element present in them. The taper roller bearing is named so because the rolling element in the taper roller bearing is of the form of a Tapered Roller.
The following points can be noticed in the constructional aspects of the tapered roller bearing.
They have tapered inner and outer raceways between which the tapered rollers are arranged.
They are separable design bearings i.e. the Inner race with the rolling elements forms a unit, which in turn can be separately mounted on the Outer race.
If the tapered surfaces are extended they will tend to converge towards a single point on the bearing axis. This tends to prove that the rolling conditions for the rolling element are optimized.
The axial load carrying capacity of the bearing is largely determined by the contact angle which corresponds to the angle of the outer raceway.
Tapered Roller bearings have a clear advantage of other kinds of bearings because of their capability to carry combined (axial and radial) loads to a great extent. This can be applied only in one direction and is normally towards the cone of the bearing.
Variants of Tapered Roller Bearings
Single Row Tapered Roller Bearing
Double Row Tapered Roller Bearing
Four Row Tapered Roller Bearings
Assembly Constraints:
Tapered roller bearings require a great deal of care and experience for assembly and mounting the bearings. The following care must be taken in order to ensure trouble free running of tapered roller bearings.
The bearings should be ensured of complete preloading, which ensures the confirmed running of the shaft about the axis of the bearing. A lesser preload can lead to out of axis running of the shaft and a higher preload can lead to seizure of the bearing.

When two bearings are arranged in a single axis of the shaft, the 'X' arrangement or the 'O' arrangement of the bearing has to be ensured in order for the bearing to take up the axial loads in the corresponding directions.
Technical Specifications:
The Tapered Roller bearings normally start with the series number of '3'. For E.g. 30206, etc.
The bearings are available in both the metric and inches series.
This post is part of the series: Types of Bearings
This series will introduce and explain on the various kinds of bearings that are available and are being used. This series will cover all the kinds of bearings with their constructional, working and special aspects of each type of bearing.