ProE and other 3D CAD packages are excellent in terms of supporting a mechanical design engineer but one common problem with the 3D CAD packages is communicating the 3D CAD models to the person who don't have these packages installed. For appreciating the 3D CAD models, one must have the respective packages installed. Moreover, the 3D CAD packages are quite costly as well. One way of communicating the design is creating 2D images and transmitting it electronically, but in that case the essence of 3D is lost.
SolidWorks eDrawings
Solidworks eDrawings is a freely downloadable .exe file, which solves the communication problems of ProE models. Upon installing the application one can view the ProE part and assembly models. Apart from the ProE files you can open the AutoCAD, Solidworks and many other 3D CAD files using the application. Another interesting feature of the SolidWorks eDrawings is that, the eDrawings files can be directly transmitted through e-mail as an attachment (zip file).
How to Use the ProE Viewer
Download and install the application from the web. Hit the short cut on your desk, press "later" for the license key step. You will get a screen like below upon hitting the "Open" icon there: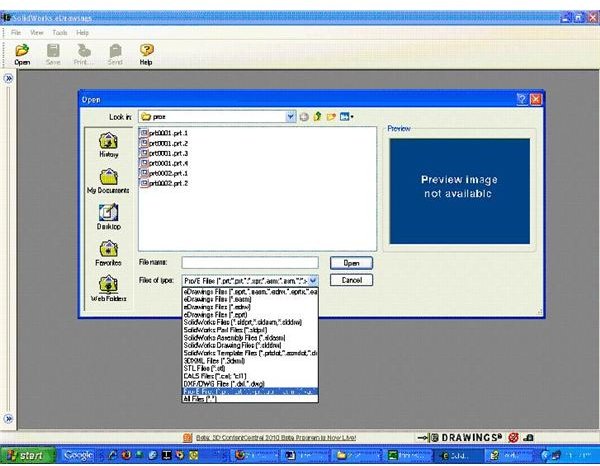 From the above snap you can see the file types supported by the package. Select the ProE file to open. The important viewing operations you can perform here are: Pan, Zoom and rotate. Apart from that you can take the print outs and send the file as an e-mail attachment. The professional version of the application will allow you to create mark ups, measure distances, create exploded views, check mass properties and enable password protection.
Conclusion
The free ProE Viewer, SolidWorks eDrawings, allows its user to view the models created by ProE and other 3D CAD packages. The premium professional version of the package allows its user to do some advanced operations like create sections, measure distances and check mass properties.
Related Readings
Free AutoCAD DWG Viewer: AutoCAD DWG viewer – DWG TrueView helps viewing AutoCAD DWG or DXF files without purchasing the AutoCAD software. This AutoCAD tutorial will help you to learn free DWG TrueView.