Solid Edge is User Friendly 3D CAD Software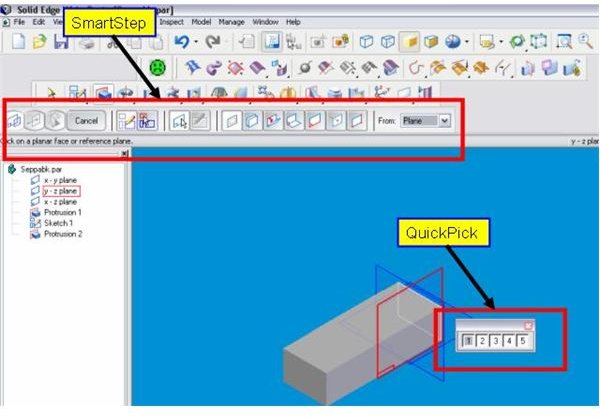 Today there are many 3D CAD applications available in the market. These applications are the starting point of Product Life-cycle Management (PLM). Because of reduced development times, the design cycle of a new product has been drastically reduced, and we are seeing new product launches in the field every now and then.
The first thing I would like to say about Solid Ddge is that it has a user friendly nature. You will not see "failure diagnosis" windows every now and then like in Pro Engineer. Especially for design engineers working in the 2D CAD field who would like to start working in 3D, Solid Edge is the perfect place to start.
Why is Solid Edge so User Friendly?
There are many reasons why Solid Edge is user friendly, but the most important of them are:
SmartStep: For creating most of the features (sketch based features), you will be following several steps like plane step, profile step, side step, extent step, and finish step. To guide you through the feature creation process, Solid Edge provides a ribbon bar called SmartStep. The SmartStep bar guides you regarding the commands that need to be performed to create a feature successfully. (See the SmartStep in the image.)

QuickPick: Selection of entities is one of the most tedious jobs in 3D CAD applications. The reason for this is the large numbers of hidden and unhidden entities in 3D CAD models. For making your selection process easy and correct, Solid Edge introduced a feature called QuickPick. For using QuickPick, you need to place your cursor near the desired entity and wait for the cursor to change to ellipsis (three dots), now click, and you will see a selection tool bar (like one in the above snapshot) with a separate button for each of the selectable entities.

Intelligent sketching: While you are in the sketcher mode of Solid Edge, intelligent sketching will help you icreate quick and correct sketches. You can apply sketcher constraints like horizontal, vertical, connect, etc. Intelligent sketching provides instant feedback about the correctness and relations of entities of the sketch.
Some Drawbacks
Files created using Solid Edge are relatively larger. On average, Solid Edge files are twice as large as similar Pro Engineer files.
While editing, the Solid Edge model rolls back, and hence you cannot see the interaction of the edit with subsequent features.
Solid Edge is perfect learning software for first time 3D CAD users. The software is developed by giving top priority to user friendliness. Some important features of Solid Edge are SmartStep, intelligent sketching, and quickPick. Heavier files size and rollback during editing are some of the negative features of Solid Edge.