Go Online With Your AutoCAD 2009 Drawings: DWF and DWFx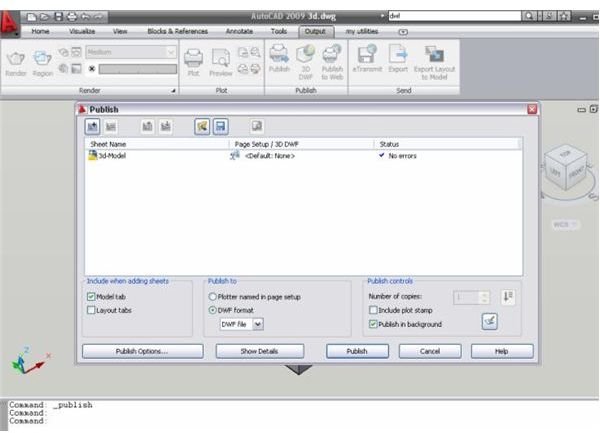 Advantage of using DWF and DWFx
You have a website and you want to publish an AutoCAD drawing to your website. You have two options:
You can paste a snapshot of your drawing to your site.
You can convert your drawing to DWF or DWFx file format and view it like a HTML page.
The disadvantage of the first option is that your website viewers cannot feel the drawing intent as it is a mere snapshot; at the most they can zoom or rotate it.
On the other hand, if you go by second option, you will be able to show an actual AutoCAD drawing to your viewers, apart from pan, zoom and rotate they can measure length between two points, draw some basic geometry (like, line, rectangle, circle etc.), write remarks, turn layers on or off, see different views for AutoCAD 3D drawings and most importantly they can print out of the drawing in the same scale as you have drawn it.
Advantage of DWFx over DWF format
DWF (Design Web Format) is developed by AutoDesk. It supports AutoCAD 2009 and some of the lower versions of AutoCAD as well. To view a DWF drawing file, viewers need to have Internet Explorer 5.01 or later and DWF Viewer installed in their machines (if they don't have AutoCAD).
DWFx is newly developed XPS compatible version of DWF. AutoCAD 2009 supports DWFx as well as good old DWF. Major advantage of publishing AutoCAD drawings using DWFx is viewers need not to download and install DWF Viewer; Microsoft Internet Explorer 7 can read DWFx files natively.
How to publish to DWF or DWFx
Ok, enough talk, now the steps required to publish AutoCAD drawing:
The above snapshot needs to be referred for clear understanding further (Click on it to enlarge).
Go to AutoCAD 2009 menu browser→ Output tab→ Publish.
You will see the publish dialogue box like shown in the snapshot.
Hit the top left icon (that is Add Sheets) to add as many drawings you want to publish.
Now go to the bottom "Publish to" section, click on the DWF format radio button, and select whether you want DWF or DWFx.
Go to "Publish Controls" section. Check the "Publish in background."
Hit the "Publish" button and it will ask for location to save the output DWF/DWFx files.
You can treat these files as HTML page and attach them to your website.
Conclusion
DWF and DWFx files are not replacements for DWG files. DWF and DWFx giver better flexibility in communicating your AutoCAD drawings with the people who have little knowledge of AutoCAD packages. At the same time, the AutoCAD designer will have complete control over the editing of the drawing.
Related Reading
Overview of AutoCAD 2009: AutoCAD 2009 has a load of attractive new features. DWFx is one of them. Learn about all the others in this article.
Basic 3D Commands in AutoCAD 2009: Creating 3D CAD drawing has become easier in AutoCAD 2009. How to use extrude command is explained in this article.