Introduction
Maintaining log of various activities carried out on board a ship is mandatory for administrative and regulatory reasons. Though we will be talking mainly about engine room log book here, this applies more or less to other types of log-books as well such as deck log book and so forth. With the rising use of computers on ships, manual log books are giving way to electronic log books and here are the reasons and benefits of the same
Log book filling: Let the Junior Engineer handle the task!
All marine engineers & navigating officers are acquainted with the perils related to keeping log records on any type of ship. Not only it is a tedious and time consuming job but also an important routine activity which has no space for carelessness. Parameters are logged down manually in a specific record book known as log book. Log book is a very important reference in case of accidents and mishaps because with the help of the records of various parameters, actual reasons of the breakdown or accident can be predicted.
Each month is allotted one log book. This means that at the end of 2 years there will be a stack of 24 logbooks in the cupboard. It is absolutely important to maintain these records for they contain the history of each and every machine on the ship, including running hours and important defects. But maintaining such "on paper" records is not only difficult but also risky. For example even a small fire incident can wipe off the entire history of the engine room. It is for these reasons that there is a strong need to replace paper log books with electronic log books or E-log books. In routine practice it is the Junior Engineer who is responsible for filling up and maintaining the log book even though officially it has to be filled in by the appropriate duty officer at the time of taking the log.
Before we look at the advantages of E log books, let's take a look at the disadvantages of using a paper log book.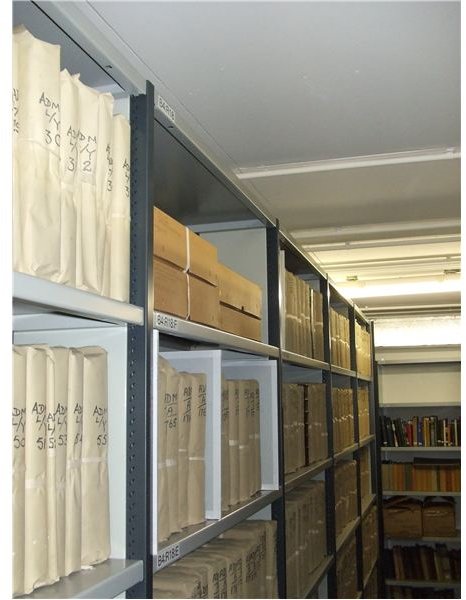 Disadvantages of paper log books
A ship always keeps a seaman on his toes. Life on ship is so busy that even an easy but tedious job of filling a simple log book may seem like a big and boring task. (It is definitely monotonous, but is unavoidable). This has always left engineers with improper filling of log books, i.e. filling of daily log on weekly basis.
Engineer's hands are often oily when filling a log book. This makes the log book untidy and the readings unreadable.
Logbooks are often filled up in haste, which has always leaded to filling of parameters in wrong columns and shabbiness due to over writing.
Also, due to speedy writing, handwritings are always poor and difficult to understand.
Misplacing of log books is a common problem on ships.
Not keeping log books in a proper place has often led to tearing of log books, mainly out of becoming obstacles in some work. The same reason has also led them to become dirty at many occasions
Mishandling of log books results in loosening of its pages and eventually missing a few.
It is due to this reason, electronic log books are recommended.
E-log books
It is an IMO specification that log records should be properly maintained and kept safely for reference at any time. In order to overcome the drawbacks related to paper log books listed above, electronic log books are being installed on almost all the modern ships. E log books have revolutionized the way data is stored and maintained. Let's take a look at the special features of these log books.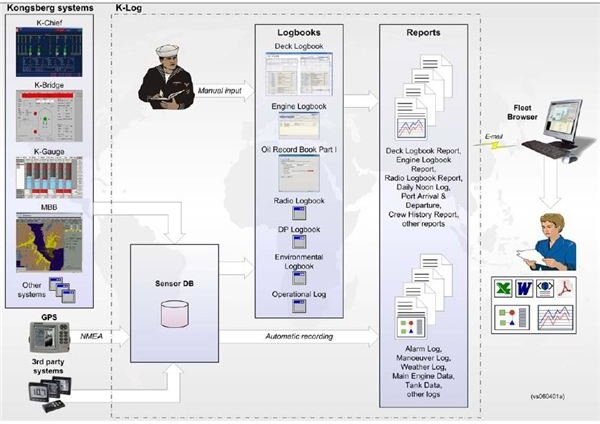 Specifications
It has a facility to store even the event based data pertaining to navigation, engine room, port calls and even bunkering process.
It can be easily installed and configured according to the requirement of the ship
It is so made that it satisfies all the specifications laid by IMO, SOLAS and flag states.
It is extremely user friendly and easy to operate.
The interface is also easy to navigate and understand.
The system is capable of generating reports such as full deck log reports and daily log report.
In addition to manual data entry the system can be configured with GPS for time and position reference and with other automation onboard.
It can be segregated into different modules such as: Deck log book, Engine Log book, Oil record book, Operational log book, Dynamic positioning log book and Radio log book.
Advantages
It is a one time investment that reduces the work load drastically
As manual documentation is cumbersome, it reduces the time required in data collection and report making.
It makes the whole process more efficient with accurate and correct readings.
In case the records are to be sent to ship owners, E log books helps in making and compiling reports is a much speedier manner without any delay.
The user friendly interface facilitates easy retrieval of data whenever necessary.
References & Image Credits
https://www.nmm.ac.uk/library/assets_c/2009/03/Log%20books%20waiting%20to%20be%20moved-thumb-2136×2848.jpg
Nouse, C. (1997) The International Marine Log Book. Ragged Mountain Press