merchant marine jobs - 2IC on board ships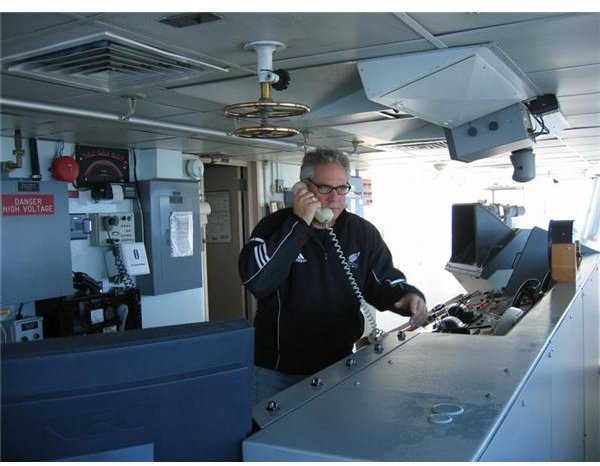 The Second in Command
A Chief Officer (also called the Chief Mate or First Officer, or, simply, 'The Mate') is the second seniormost officer on board, is the Second in Command and is the understudy to the Captain. In case the Captain is indisposed, the Chief Officer will automatically take over command of the ship.
Even though he will need eighteen months of time at sea before he can appear for a Captain's examination, the Chief Mate remains the Captains right hand man, and is in charge of the Deck Department.
First Mate at Work
Duties of a Chief Officer
The Chief Officer must be proficient in myriad functions. The main ones are:
· Incharge of cargo operations including loading, discharging, securing and care during voyage
· Incharge of ship stability
· Incharge of deck crew discipline and welfare
· Incharge of all deck, deck machinery and accommodation maintenance
· Incharge of the ballast system, layout and maintenance of tanks and pumping arrangements.
· Incharge of ensuring watertight integrity of the vessel, ensuring there are no leaks.
· Incharge at key location during emergencies like fire, grounding, man overboard, collision, oil spill etc
· Incharge of waste disposal and management.
· Incharge of his independent watch at sea
· Key person in the communications (with shore) system on board.
· Key person in the ship security management system
· Key person in ship's management structure, along with the Chief Engineer.
· Key person during manoeuvring, anchoring, coming alongside a berth and during any critical shiphandling.
Master of all trades
The Chief Officer must know the ship and the deck crew inside out. He must be well conversant with all unique features and typical problem areas on board, understanding limitations of deck machinery and typical loading and stability issues.
As the seniormost sea watchkeeping officer, he must be an excellent navigator with complete mastery over all electronic and other navigational equipment.
In addition, he must be an excellent man manager, organising critical and complicated tasks with very limited crew. He must understand international regulations, especially statutory ones pertaining to safety, ballast water and oil pollution. Above all, he must be able to multitask, think on his feet and perform under sometimes great pressure.
A First Mate's daily routine
At sea, a Chief Mate will typically keep his morning 'sea watch' on the navigating bridge from 4am to 8am. He will then spend at least 4 hours 'on deck', managing the crew, inspecting the ship and cargo and attending to a plethora of requirements both statutory and voyage related.
He will also find time to keep up with the ever increasing administrative duties ships have to carry out these days, before he goes for his evening 'sea watch', from 4pm to 8pm on the bridge.
In port, he is even busier. With the Second and Third officers reporting to him and along with other seamen, he has to continuously monitor and control cargo operations, security and fire patrols, ballasting and deballasting, receiving stores and supplies and ensure that the vessel is ready to safely proceed to sea.
Career progression to first Command
A First Mate will normally be eligible to take the Captain's (Master's) examinations after eighteen months at sea after his Chief Mate's certificate is obtained.
Examinations will cover, in depth: celestial and terrestrial navigation, ship construction and stability, maritime law and insurance, regulations and systems, meteorology, shiphandling, electronic and non electronic equipment, comprehensive understanding of the collision regulations and seamanship to a high degree. The examinations will be written and oral.
Passing this test will not automatically give him Command of a ship as Captain; that will depend on his proficiency on board. Needless to say, most companies think long and hard before they hand over a ship to a brand new Captain: and so the officer must show he is ready, and learn from the Captains he sails with all the time.
Needless to say, a Chief Officer's job is not for the fainthearted!
Image Credits
First Mate at Work - Institute of Marine & Coastal Sciences, New Jersey
This post is part of the series: Sea Cadets- the future Marine Masters
How are sea Captains made? What is their career path? How does a raw cadet start his journey towards being trained for this high pressure job? Over the next couple of weeks, I will explain how this happens.