Ship Disasters caused by Rogue Waves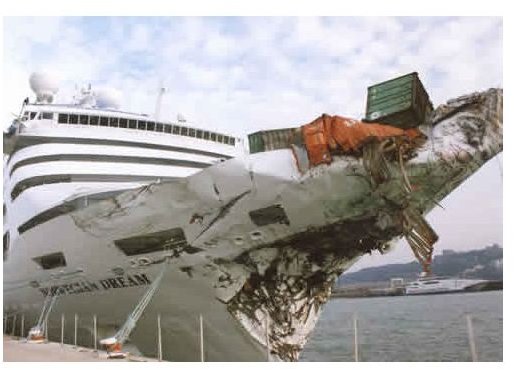 Rouge Waves and Ship Incidents
The amazing number of recorded ship encounters with rogue waves is too numerous to recite, but here are a few.
In 1933, the USS Ramapo, a Navy tanker, reported a wave as high as 35 meters or 115 feet. In 1942, the English ocean liner The Queen Mary encountered a monster wave while it was functioning as a war ship, and yet miraculously survived. A freak wave is suspected in the 1978 disappearance of the 43,000 ton German cargo ship Mûnchen, where nothing remained except an unlaunched life boat. In 2006, a 70 foot (21 meters) high rogue wave smashed into the container ship The Pomona while it was in the Pacific Ocean. In 2010, three rogue waves up to 26 feet (7.9 meters) high killed two people and injured others on the cruise ship Louis-Majesty while it was on a voyage off northeastern Spain.
Rogue waves are held to be responsible for the disappearance of a considerable number of small and large ships, from tiny fishing boats to tankers, supertankers, and ocean liners. Within the past twenty years, they have been believed to have destroyed 200 or more ships alone. Other estimates by researchers put the loss as high as one to two ships per week, yielding approximately one to two thousand ships in that same 20 year period, amounts considerably larger than that of 200.
Rogue Waves on Dry Land
Rogue waves are no respecters of land. There have been many episodes resulting in death/and or destruction of property, including that of cars and houses. As with the ship incidents, there are too many of them to relate, and not all of them have been recorded or acknowledged.
On July 3, 1992 in Florida, a huge wave 5.5 meters high (18 feet) and 38.1 meters wide (125 feet) suddenly appeared out of a calm sea and crashed ashore. Hundreds of vehicles were wrecked, and 75 people were injured. In California three young men, two of them teenage brothers, drowned when they were swept out to sea by a 1 meter (3 foot) rogue wave as they were taking photographs on a rocky coast in November 2008. Two other family members who were pulled into the sea along with them managed to survive.
A 7 meter (23 foot) rogue wave came over a sea front in La Coruna, Spain in March 2008, sweeping away cars and hitting pedestrians. South Korea endured a tragedy May 5 2008, when nine people were killed and 14 injured when a 5 meter (16 foot) rogue wave struck the west coast.
Rogue Waves and the Bermuda Triangle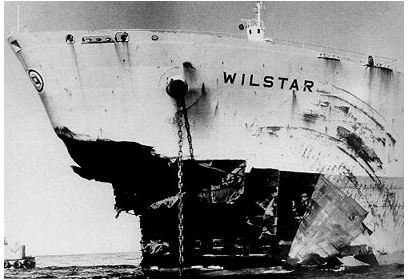 Can rogue waves be behind the mysterious disappearance of both sea and air craft in the Bermuda Triangle? Some believe this to be the case. Various physicists believe that a micro-black hole, which is connected to a worm hole attached to a white hole under Japan, is the cause. But this is a topic to be addressed in another article.
In part three, we will look at portrayals of rogue waves in art, music, literature, and film.
Image Credits
Figure 1: The Norwegian Dawn cruise ship hit by a 70 foot rogue wave GCaptain.com
Figure 2: The Norwegian tanker Wilstar, which was damaged by a rogue wave off the east coast of South Africa, European Space Agency
Resources
Video of The La Caruna Rogue Wave
The Norwegian Dawn Meets A Rogue Wave Off Florida
The Louis Majesty Encounters Rogue Waves Off Spain
This post is part of the series: Introduction to Rogue Waves
An introduction to rogue waves, including discussions on their composition, history, tragic consequences, and their appearances in art, film, music, and literature.