Learn About Sayano-Shushenskaya Hydroelectric Power Plant, & Krasnoyarsk & Robert-Bourassa Power Plants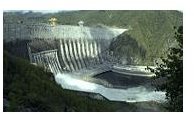 Sayano-Shushenskaya hydroelectric power plant
---
Sayano-Shushenskaya is the largest hydroelectric power plant in Russia developed on Yenisei River near Sayanogorsk in Khakassia. Sayano-Shushenskaya hydroelectric power plants was completed in the year 1978 and it has total power producing capacity of 6400 MW. Yearly the plant can produce 25,500GWh of power. This is the gravity type of dam with 245 meters height, crest length of 1066 meters, and maximum water head of 220 meters.
Image Source: Wikipedia
Krasnoyarsk hydroelectric power plant
---
Krasnoyarsk is the second largest hydroelectric power of the Russia developed on Yenisey River. The total height of the dam is 119 meter. The work on Krasnoyarsk hydroelectric power plant was completed in the year 1964 and it has power generation capacity of 6000MW. The construction of Krasnoyarsk dam has brought lots of changes in the climate of the surrounding areas. Before Krasnoyarsk came there used to be ice in the local areas for around 196 days of the year. Krasnoyarsk has caused increase in the temperature of the local areas now the whole areas in about 300-400 kilometers range of downstream no ice is found throughout the year.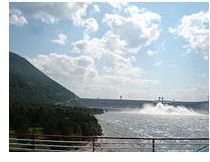 Image Source: Wikipedia
Robert-Bourassa
---
Robert-Bourassa is the largest hydroelectric power plants of Canada with the power producing capacity of 5616MW. It is constructed on La Grande River and it is part of Hydro-Quebec's James Bay Project. Initially this power plant known as La Grande-2 and it was later renamed after Robert Bourassa who, as the Premier of Quebec gave great thrust to James Bay Project.
Robert-Bourassa hydroelectric power plant was commissioned in the year 1979-81. The total number of power generation units in the plant are 16 each having power generation capacity of 351MW and Francis Turbine. Robert-Bourassa hydroelectric power plant is also tourist and adventure spot. It is the world's largest underground plant located 140 meters underground. The total height of Robert-Bourassa dam is almost equal to 51 storeys building making it mammoth structure. Then there is gigantic spillway which gives electrifying experience.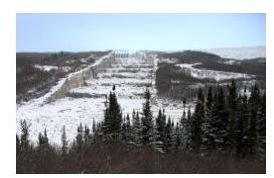 Image Source: Wikipedia
References
This post is part of the series: Hydroelectric Power Plants
Hydroelectric Power Plants