Ten Largest Hydroelectric Power Plants of the World. Largest Dams of the World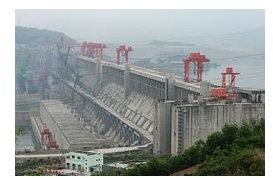 Introduction
The hydroelectric power plants are one of the most popular types of power plants used for the generation of the electricity. The major reason for the popularity of hydroelectric power plants is that they use potential energy of water for generation of electricity and they don't require any fuel. This helps keep environment clean and energy production relatively cheaper. Huge infrastructure is required to setup the hydroelectric power plants, hence its no wonder that some of the hydroelectric power plants are being considered as the seventh wonder of the world.
Let us see the ten largest hydroelectric power plants of the world:
Three Gorges Dam
---
Three Gorges Dam is the hydroelectric power plant being developed on river Yangtze River in Sandouping, Yichang, Hubei, located in China. This is the largest hydroelectric power plant with the power generation capacity of 22,500 MW when completed. At present the power plant produces 17600MW of power. As per the plans the Three Gorges Dam hydroelectric power plants is to become fully operational by the year 2011.
The wall Three Gorges Dam is 2309 meters long and 101 meters high and it is made up of concrete material. The total steel used for the dam is good enough to raise 63 Eiffel Towers. You will be surprised to know that on the bottom side the wall is 115 meters thick and on top side it is 40 meters thick. The total length of Gorges Dam is 660 kilometers and its average width is 1.12 kilometers.
The generation of power from Three Gorges Dam is a definite advantage since no fuel is required and no pollution will be created. But at the same time its construction has also led to large scale ecological disturbance, displacement of the human beings and loss of numerous important archeological and cultural sites.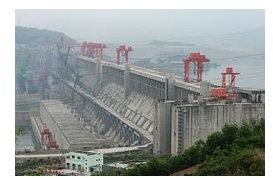 Image Source: Wikipedia
Itaipu hydroelectric power plants
---
Before Three Gorges Dam, Itaipu hydroelectric power plant was considered to be the largest hydroelectric power plant of the world. Itaipu power plant is developed on Parana River in the border areas around Brazil and Paraguay and 15 kilometers towards North of Friendship Bridge. There are 20 power generating units at Itaipu each producing 700MW of power totaling 14 GW of power. For more details of Itaipu hydroelectric power plants click on The Largest Hydroelectric Power Plant of the World: Itaipu.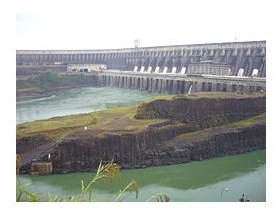 Image Source: Wikipedia
Reference
List of Largest Hydroelectric Power Stations: Wikipedia
This post is part of the series: Hydroelectric Power Plants
Hydroelectric Power Plants