Variational sweep is used quite extensively in Unigraphics part, sheet metal, and surface modeling. The variable section sweep option of ProE is equivalent to the Variational sweep of Unigraphics. By using the Variational sweep option, you can sweep a section (open or close) along a guide path (curve) and at the same time you can vary the size of the in-between the start and end points of the guide path.
So, with the Variational sweep option, you have to deal with two kinds of datum curves: section (or sections) and guide path curve.
Variational Sweep Creating Procedure
For creating Variational sweep feature in UG go to
Insert → sweep → Variational sweep
You will get the Variational sweep window as below: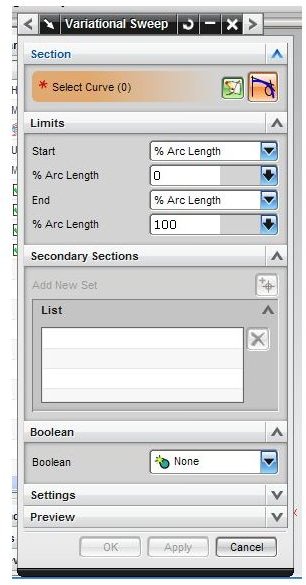 Now, you will require selecting already created guide path curve. Let's select the below curve (the blue one) as guide path curve: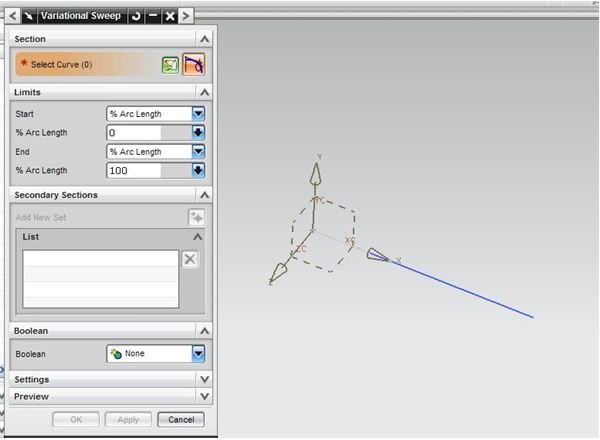 As soon as you click on the guide path curve the Unigraphics GUI will change as below: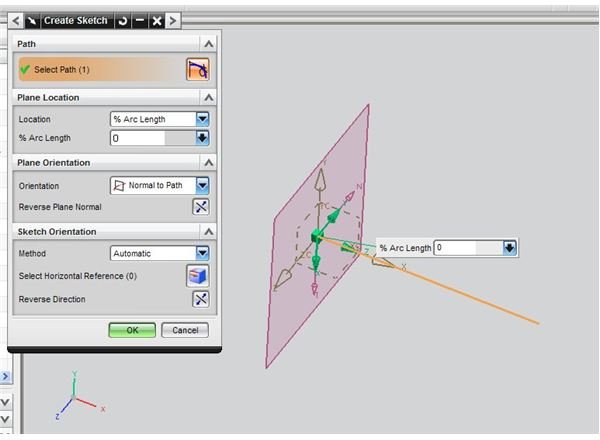 It will ask for the sketching plane for the section. You can modify the already appeared default sketching plane by modifying the "plane location", "plane orientation", and the "sketch orientation" options. Now, hit the OK button and draw the section sketch. Don't forget to give the necessary dimensions. Our section looks like below: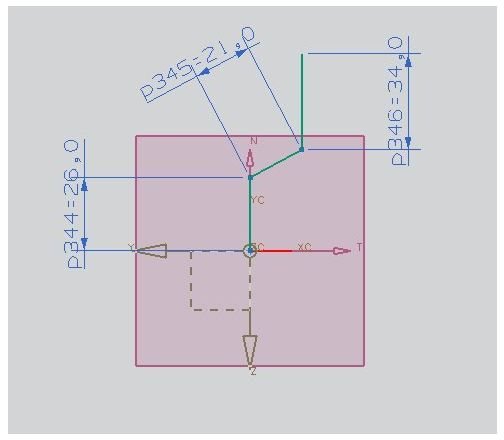 Finish the sketch by pressing the Ctrl + Q buttons. You can see the just created Variational sweep feature like below: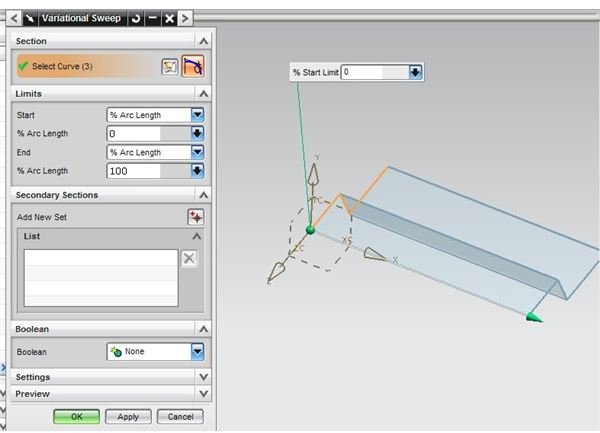 Now, if you want to vary the shape in between the start and the end point, hit the icon "Add new set" under the Secondary sections and you will get something like below: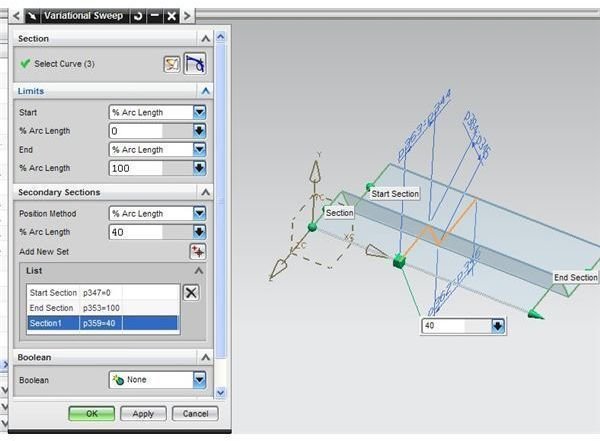 Change the % Arc Length value from 0 to 40. You will see a section (same as the initial section) appears somewhere in between the start and end point. Change the required dimensions and click OK. You will get the Variational section feature done.
Conclusion
Variational sweep of Unigraphics is similar to the variable section sweep of ProE. Point to be remembered while practicing this UG tutorial is first you need to select/create the guide path curve and then the section. Though this tutorial is based on UGS NX6 but it will work for the UG NX5 also.
Related Readings
Five Methods of Unigraphics Datum Points Creation:This Unigraphics (UGS or UG) tutorial on datum point will discuss five important types of UGS datum points, their usage, and the method of creation.
ProE Wildfire vs. UG NX 6: ProE as well as UG both are high end 3D CAD package. While comparing ProE vs. UG in this article we will discuss which one is strong in which area.