What's New with Autocad 2009 . Review of AutoCAD 2009.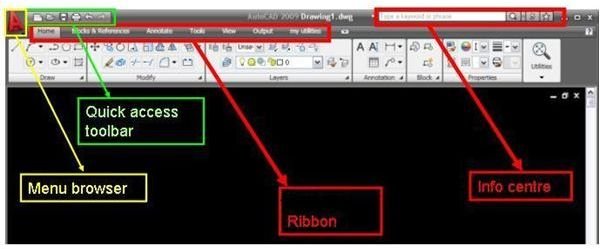 AutoCAD is always known for its user friendly two dimensional features. The user friendly two dimensional features are predominantly present in the latest version as well. But apart from that AutoCAD 2009 are having a catchy graphical user interface (GUI) and some useful three dimensional features.
What are new in the store?
The GUI
You are using Microsoft excel, words and other Microsoft programs day in and day out. So, unknowingly you find them a bit more user friendly and when you open the older versions of your AutoCAD, you may feel "why this software is so different?."
AutoDesk listen you and the new autocad2009 is just for you guys who loves interface of a typical Microsoft programs. Ribbon concept has been introduced in the latest version. At the top of the screen, there will be a ribbon, which consists of different ribbon tab like, home, block & reference, annotate, etc. When you will click on a particular ribbon tab, you will find all the options under it. The screen looks much more organized. However all the commands are still works fine in command prompt.
A new quick access toolbar, which contains all the most frequently commands (like, open, save, print, undo and redo) are clubbed together, is placed at the top left side.
Help has become more sophisticated info centre, which looks like desktop search programs (similar to goggle desktop search or windows live search). Info centre will show help not only from AutoCAD help installed in your machine but also other AutoDesk online results and you can even add to favorites for the online contents.
An attractive new menu browser with search option is added at the top right corner. All the menu options and their sub options are reachable from here. The search field of the menu browser could be used to search any command. If you type the word "line" over here you can see all the commands where ever the line is used.
Ribbon concept
Ribbon is a collection of palates or tabs that contains different buttons and controls. By adapting ribbon concept AutoCAD2009 could clubbed different buttons and controls together. Not only that, you can even make your own ribbon tab by your own specified name and your chosen buttons and controls easily, now this is really cool!
However, if are a beginner of AutoCAD and you are using directly autocad2009, then for some initial days you may find it bit difficult to locate the ribbon under which the button you want belongs. You can very well use the search option of the menu browser in that case.
Workspace concept
This is again somewhat new concept or at least the way it is used over AutoCAD 2009is new. There are three work spaces, which you can select from menu browser as tools>workspace, by selecting any one of them you will find a specific sets of ribbons in your GUI. If you select say, 3D modeling, you will get the ribbons related to 3D modeling. Similarly if you select 2D drafting & animation you will get some other sets of ribbon. Of course some buttons and controls for both the work spaces. The third work space is AutoCAD classic, by selecting which you will see your GUI has changed like the older version of AutoCAD.
AutoCAD 2009 has come into market, apart from attractive looks it is having some cool added features packed in it. The 3D features have been improved as well as ribbon and workspace concept has been introduced.