Panama Flag and Shipping Registry
Flags of convenience are those shipping registries which allow ships owned by persons of any nationality to register with them for economic and other reasons. Like the Maritime Jones Act that restrained the use of foreign crewmen and ships on American soil doing coastal trade, many countries have similar laws to protect their shipping interests and do not allow foreign ships to register with them. In a highly competitive market where cost effectiveness can be gained by employing crew from developing countries where the cost of living is low, any ship owner would love to register his ship with a flag of convenience.
However "Flags of Convenience" gained a bad reputation in past years where it was assumed that certain registries were lax in their implementation of international rules and conventions in order to gain clientele. The Panama registry had many years before changed its image by complying strictly with various laws and regulations, and Panama is now a preferred registry due to the economic benefits. The Panamanian maritime laws passed in 2008 have further endeavored to improve its image and gain more business. It has offered great discounts on new ships so that it can be comprised of a younger and safer fleet of ships. To improve the image and to become the choicest registry, the laws passed are law no. 55 and 57 from Aug 2008.
Well Maintained Panama Flag Ship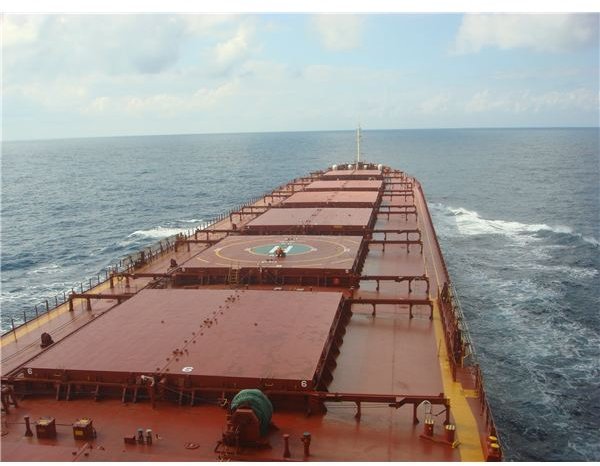 Objective of 2008 Laws
The objectives of these laws are to attract new tonnage by giving discounts on new ships, to attract more tonnage by giving loyalty bonuses, and finally to have a fleet of safer ships by giving discount to ships which have no Port State Control Detentions.
Newly built vessels have up to 50 % discount on registration and annual fees. Vessels with no PSC detentions in the last 24 months have up to 15 % discount on annual tax. It is also giving a loyalty discount of 20% on a fleet of up to 15 vessels and a discount of 60 % where the fleet exceeds 51 vessels. Thus it is very attractive to large shipping companies.
A new special registry for laid up vessels has been created for those vessels that had been laid up due to economic recession. In this registry the laid up vessels are exempt from the Registration fees, annual inspection fees, and accident inspection fees among others. As this is very attractive to shipping companies already in difficulty due to recession, they would transfer their laid up ships to this special registry. It has another benefit that the moment they come out of the lay up, they would be registered with the Panamanian registry.
The new Panama Merchant Law number 55 of Aug 2008 has reduced the time and cost of registration, increased the validity of navigational documents from 4 years to 5 years benefiting the ship owners and the crew, and increased the priority of mortgages as maritime liens. It has eliminated the filing of corporate tax and has also accepted all principal regulations and conventions.
Advantages of Panama Registry and Incentives Given
Firstly and foremost, it is an open registry in which any individual or company of any nationality can register. There is no minimum tonnage required, and if a company has a single ship, it can also register. It is also quick, and if safety and tonnage certificates issued by a recognized classification society are valid, no re-inspection is required. This all, combined with the economic benefits, make it attractive.
Benefits to Sailors and Seamen
There is no direct benefit to sailors and seamen under the rules of 2008, however a younger fleet will also be more trouble-free as all machineries are new and will subsequently provide less headaches to the engineers and crew. A discount on having no PSC deficiencies would encourage the companies to view safety seriously and profitably. This is a welcome break where some companies have started putting a personal fine on the ship's compliment when there is a PSC deficiency and fine. Also the economic advantages would finally come to the crew in form of increased wages. Thus in the long run the Panama Maritime Laws of 2008 are profitable to the Merchant seamen.