Prepare a Ship for Dry Dock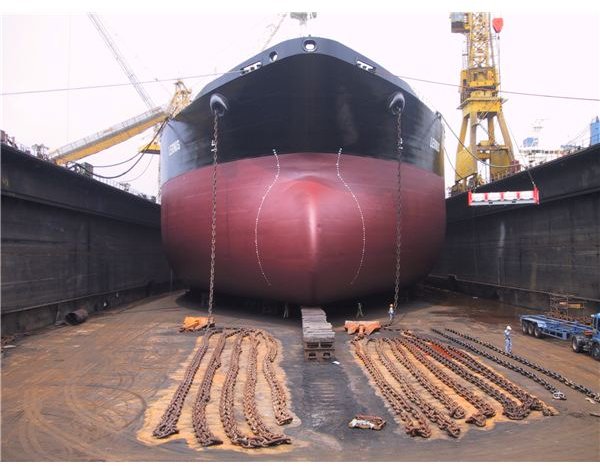 Introduction:
The main objective in carrying out dry docking is to ensure ships are operational and to maintain their class license. Structural machinery and various components are subjected to inspection and maintenance to ensure sea worthiness. Dry docking is also required if a ship has sustained damage to the under water structure due to grounding, collision or any other damage which will affect the water integrity of the ship's hull.
Preparing the Ship for Dry Docking:
Make a repair and maintenance list, create or obtain a drydock handbook if required, and assign responsible ship staff to their duties on the list. Divide staff into groups to oversee the work carried out by yard gangs.
All spare parts must be checked and repair items kept ready for use.
Previous dry dock reports should be studied and previous clearance measures noted.
Clean engine room tank top and bilges.
Prepare sewage treatment tanks, dirty oil tanks and bilge tanks.
Flushing of bilge lines is to be carried out prior to dry dock.
The oil-water separator filter element should be renewed and the system checked for satisfactory operation.
For tankers, all cargo tanks are cleaned and gas freed.
Minimum bunkers (Fuel Oil and Fresh water) and ballast carried.
All heavy weights secured prior to dry dock.
All tanks and cofferdams must be sounded and recorded.
Firefighting plans and safety measures discussed before dry dock
Firefighting equipment on board should be checked and kept ready for use.
Emergency lighting and generator should be tested before entry.
Escape routes must be clearly marked.
All valves and chests to be overhauled must be clearly marked.
Shore connections for cooling water and fire line are to be readied.
Main engine, generators, and boiler are changed over to diesel oil.
CO2 total flooding systems are secured and locked before entry.
Vessel must approach dock with even keel.
Trouble/Damage if Dry Docking is Unprepared:
Dangerous confusion if no proper defects list is made and staff not briefed.
Explosion hazards when hot work is done on a tank not emptied of volatile substances.
Engine room bilges may become fire hazards if not cleaned.
If spares are not checked properly, work will be delayed due to time wasted finding or awaiting orders.
Leakage due to draining must be pumped to the empty drain/bilge tanks if not empty prior to dry dock.
Extra unplanned work needed in shore reception required in dry dock costs time and money.
Wrong frequency and power supply information given to dry dock will cause machinery to overheat and eventually fail.
Dry Dock
Procedures Adopted to Ensure Safety During Dry Dock:
Firefighting equipment ready at all times.
Fire detectors and fire alarm in good working condition.
CO2 total flooding system door is locked to prevent accidental actuation.
Safety gear worn while working- safety shoes, helmet, overalls, safety goggles, ear mufflers, and gloves.
Escape routes should be clearly marked.
Proper working permits obtained before carrying any work on board; e.g. hot work permit, enclosed space entry permit.
All lifting gears checked to be in good working condition.
Safety lamps are used - never use a naked lamp.
Co-ordination of work, so no chemical cleaning and hot work around boiler area is done at the same time.
No transfer of oil carried out in dry dock.
No boiler blow downs; in emergency, necessary notice given.
Acetylene and oxygen bottles are properly stored and secured.
Fire officer at site of work and extinguishers available.
No unauthorized personnel or chemicals allowed on board.
Ship properly grounded to shore earth.
Fire line is always ready with 2 hydrants open if no hull work is carried out.
Safety meetings should be carried out every morning before stating the work in dry dock.
Image Credit:
https://commons.wikimedia.org/wiki/File:Dry_dock_in_Singpore.jpg