What is NAVTEX?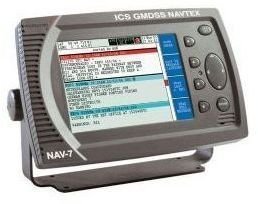 In Marine Navigation, the NAVTEX (Navigational Telex) system is used for the automatic broadcast of localised Maritime Safety Information (MSI) using Radio Telex (also known as Narrow Band Direct Printing or NBDP). Typically, a navtex receiver on board prints out navigational and meteorological warnings and forecasts, as well as urgent marine safety information to ships.
The range of a navtex receiver is around 200 to 300 nautical miles, which means that it can be effectively used close to the shore. It is part of the worldwide GMDSS system (Global Maritime Distress and Safety System)
How does NAVTEX work?
The Navtex frequency is 518 khz, a medium frequency found suitable for transmission of the telex. For non English broadcasts, the frequency is 490 khz.
Broadcasts from Navtex transmitters are automatically picked up by on board receivers and printed. The officer on watch on the bridge of a ship monitors these broadcasts regularly, and so gets pertinent navigational and weather related information in real time.
The coding of Navtex messages is such that repeated messages are not printed by the receiver on board, which are designed to operate unattended.
Major areas of NAVTEX coverage include the Mediterranean Sea, the North Sea, coastal areas around Japan and areas around the North American continent. NAVTEX receivers are supplied with their own antenna system. The service is free to users.
It is important to understand that the system is automatic on board ships– once it is switched on and set, it receives MSI information for the area the ship happens to be in continuously and without user involvement. The only thing a mariner has to do is to change the paper on the printer when it runs out.
What do NAVTEX messages contain?
Navtex messages may include (A,B,C etc are called 'Subject Indicators' and denote the kind of message, eg, A is for Navigational warnings. The Subject indicators are unique)
A – Navigational warnings
B – Meteorological warnings
C – Ice reports
D – Search and rescue information
E – Meteorological forecasts
F – Pilot service messages
G – Decca messages (Decca, Loran and Omega are electronic navigational aids)
H – Loran messages
I – Omega messages
J – Satnav messages (related to Satellite navigation)
K – Other electronic navaid messages
L – Additional navigational messages
V – Special services
W – Special services (possible other languages use)
X – Special services
Y– Special services
Z – No message on hand (to confirm there are no new messages)
Advantages of NAVTEX
Navtex provides a cheap and accurate means of receiving all safety related information closer to the coast. It is automatic, user friendly and does not involve regular monitoring. An officer has to just switch it on and initialise it and the receiver will print (or store, as in some models) MSI information automatically.
The Navtex is the most convenient way of monitoring navigational warnings, meteorological warnings, search and rescue information and other data for ships sailing within 300 miles of shore.