Joining the US Merchant Marine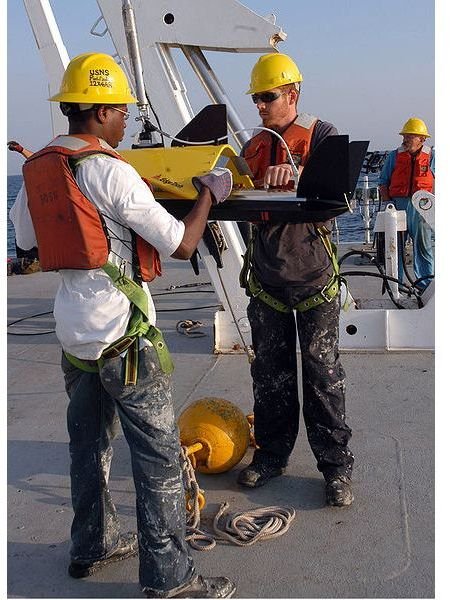 The Merchant Marine (sometimes called the Merchant Navy) of the United States consists of all merchant ships owned by citizens. The Merchant Marine transports goods and passengers in and out of the United States. During wartime, the Merchant Marine becomes an
adjunct of the US Navy and assists in transporting troops and supplies. Joining the US Merchant Marine is an exciting career path for those interested in working at sea. The process of becoming a mariner can be time consuming, but competent people should have no trouble finding work. Read on below to find out how to join the US Merchant Marine.
Image: Wikimedia Commons - Merchant Marine Seaman
Categories of Work
Most mariners will find themselves working in one of three categories:
Deck: positions include management, navigation, and cargo handling
Engineering: engineers are responsible for maintenance, propulsion, and management
Steward and Hotel: these workers are in greater demand on some ships (such as cruise vessels) than others. They handle food, sanitation, and housing.
These positions are very different and of course have different entry requirements. According to the Maritime Administration, there are four different ways to find a job in the US Merchant Marine.
Finding a Job in the Merchant Marine
The US Maritime Administration lists the following as ways to find a job in the Merchant Marine:
• Contacting a maritime company or union
• Contacting a maritime crewing agency
• Attending a maritime technical training school
• Attending a maritime academy or college to become a licensed officer
Source: Maritime Association
Note: The US Merchant Marine is not an official organization, but rather a name that describes the large collection of privately-owned merchant ships in the US. As such, the entrance requirements can vary significantly from boat to boat or depending on union regulations.
Job-seekers who only want to become crew members can do so by attending a maritime training school or applying for jobs directly. Some positions require very little specific training, while others are more substantial. Requirements are generally listed in job postings.
Some jobs may legally require specific courses. The Maritime Association has a very useful compilation of certified courses on their website.
Becoming an Officer in the Merchant Marine
In order to become an officer in the Merchant Marine, it is generally required to attend one of the US-based maritime universities. The most prestigious of these is the United States Merchant Marine Academy (USMMA) in Kings Point, NY. Admission to the USMMA is highly competitive, as each class is made up of only 250 students. To find out more about the admissions process and life at the academy, visit the USMMA website.
In addition, there are six state-run maritime universities: California Maritime Academy, Great Lakes Maritime Academy, Maine Maritime Academy, Massachusetts Maritime Academy, State University of New York Maritime College, and the Texas Maritime Academy.
Source: Maritime Administration
These schools provide extremely valuable training, which enables graduates to begin careers as officers in the Merchant Marine. This is a good option for people who want to develop high-paying careers at sea, as many of these positions require licensed applicants. The only way to achieve such a license is, in most cases, to attend a maritime university. These universities are four year undergraduate institutions. The USMMA is free, but the others are not; the Maine Maritime Academy, for instance, runs $8280/year in state and $17000 for out-of-state, non-New England residents (New Englanders pay a reduced rate).
If you want to become an officer in the Merchant Marine, you will need to attend a maritime academy. Or take specific courses. You will also need to pass an exam. In some cases, experience in the US Navy can count towards requirements in the Merchant Marine. See the following page: Military to Mariners