Introduction to Crewing Levels – How Low Will We Go?
When I was an Engineering Officer at sea in the sixties, the ships were fully manned both on deck and engine room. All the watches were manned by an officer and at least one crew member, sometimes an extra hand as lookout on the bridge, made up the ships personnel.
Just before I left the Merchant navy, "integrated crew" was the latest buzz word. This was being introduced by the shipping companies, the engine room crew integrating with the deck crew in a bid to reduce manning levels.
This is an article in Marine Engineering, and in particular the reduction of ships personnel by the shipping companies in order to save money. However, as we shall see reduction in ships personnel crewing levels can lead to fatigue among the watch keepers; one of the major causes of accidents at sea.
We begin then with a look at the normal level of ships personnel and their duties.
Ships Personnel and their Duties at Sea
I was an Engineering Officer sailing on oil tankers for many years, and there we were taught that safety was paramount. This included adequate crewing of the ship to ensure that we all received the right amount of time off after completing our allotted duties, whether on day work or watch keeping in the engine room or bridge.
There were of course exceptions to this, such as repair to main engine at sea where it was imperative to get power restored. On these occasions I have worked over twenty hours, then stood a four hour watch to ensure the repairs were successful; but we always got time off to relax and catch up on the sleep.
Nowadays a breakdown of the main engine at sea, must be very hard on the engineers and engine room crew, due to the reduced manning levels.
In the engine room we had a Senior Engineer Officer and a Junior Engineer along with a greaser and boiler man, on a four hourly watch with eight hours off duty. All were fluent in the English language.
The bridge had a Senior Deck Officer on watch with two lookouts and sometimes a Cadet (Deck Apprentice), on the same watch keeping rota as the engine room.
As well as watch keeping duties we worked "field days" that consisted of a few hours overtime after the watch on deck or engine room as required by the Chief Officer or Second Engineer.
One ship I sailed on had six Chinese Fitters working in the engine room maintaining the various components such as spare cylinder heads and exhaust valve gear. There was also a deck crew working under the Bosun on day work, normally chipping and painting the deck in the constant battle against the dreaded corrosion, but who also worked on gas-freeing and tank cleaning duties whilst at sea. Finally we were all well looked after by the Catering Department who cooked our meals and kept our cabins tidy.
Due to the financial downturn in world markets the shipping companies have had to make cuts to remain financially viable. However as we will discover in the following sections, a reduction in manpower, coupled with less qualified personnel from different countries creating a language problem, can lead to accidents at sea.
Crewing Levels – How Low Will We Go?
Due to the world economy collapse leading to a downturn in shipping world trade, a reduction in ships personnel manning levels was inevitable.
The regulating body of the International Maritime Organization (IMO) through Safety of Life at Sea (SOLAS) have recommended ships personnel minimum manning levels, citing instances where down manning of ships personnel has caused fatigue and led to an increase in groundings and other human error accidents. These amendments to current recommendations could become law if approved at the MSC90 Conference next year (2012).
Most accidents at sea were found to be caused by human error and, as previously stated, this is primarily down to fatigue of the Officers on the bridge and bridge lookouts due to working long hours because of low manning levels.
According to investigations carried out by the IMO, accidents at sea were found to originate from causes listed below with some suggestions.
1. Human Error – 80% of Accidents at Sea
Fatigue due to working long hours because of under manning. As stated previously, IMO are looking into this and should have new Maritime Laws in position by 2012.
Lack of concentration due again to fatigue caused by a reduction in manpower.
Deficiencies in Education and Training. Some ships personnel were found not only to be lacking in training and education but also ignoring current International statutory regulations and guidelines. (C4ff are currently running courses in education and training for ships personnel)
2. Other Causes of Accidents at Sea
Technical failure. This can be due to engine or steering gear failure as well as navigating errors due to faulty instruments such as Radar.
Automated engine rooms/bridge control
Modern merchant ships, especially container ships and oil tankers of International Flags, are being built or retrofitted with automated engine rooms and bridge control. In emergency situations an engine not starting ahead or astern when maneuvering or entering/leaving port or breakdown of engine have caused accidents. This has been due to non-familiarization of automated enginerooms and bridge control by both Deck and Engineer Officers. SURPASS courses are now available in Automated Engine Rooms Systems and their limitations.
Poor communication between the Officers and crew. The advent of multinational crews has led to a problem in understanding basic English. (MarTEL has set up courses in Maritime English)
The causes of accidents at sea are shown graphically below, taken from SURPASS Project. It can be clearly seen that two of the main causes are low manning levels and fatigue, illustrating that regarding crewing levels (how low will we go?), any further reduction in manning levels would lead to more accidents at sea.
Please click to enlarge image.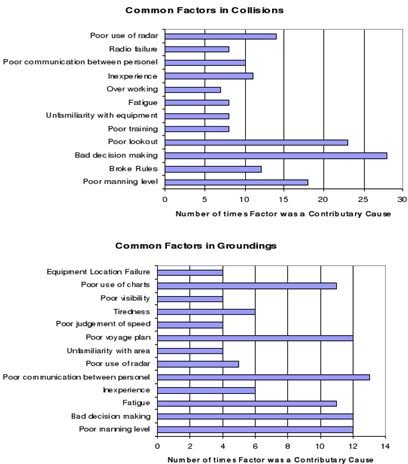 Reference Webs: