Introduction
The biggest aircraft carrier in the US Navy is the Nimitz CVN-68 aircraft carrier. It has been working for many years and is famous for its large capacity and unique features. Actually, the Nimitz CVN-68 is the first aircraft carrier of the series of ten nuclear-powered aircraft carriers named the "Nimitz Class," which are included in US navy time as time passes, with increased features and service quality.
This series of aircraft carriers was built by the company "Newport News Shipbuilding Company," presently in Virginia. The leading aircraft carrier of this series is Nimitz CVN-68, and it was hired on 3 May 1975 in the US Navy. The last aircraft carrier of this series was commissioned on 10 January 2009.
The length of Nimitz CVN-68 aircraft carrier
This aircraft carrier is famous due to its size. The length of the Nimitz is 333 m or 1,092 ft, and it has a full-load displacement of over 100,000 long tons. The waterline length of this aircraft carrier is 317 m.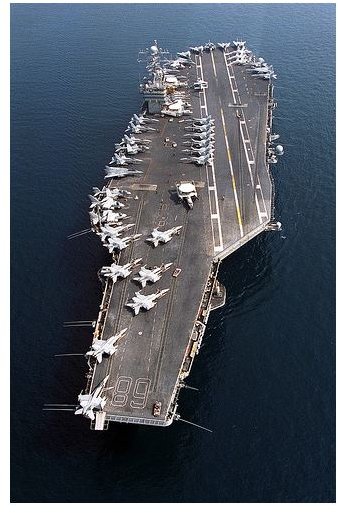 Power of the engine and maximum speed of Nimitz CVN-68 aircraft carrier
Gas turbines or diesel electric systems are used in most modern ships; however, A4W pressurized water reactors are used in this aircraft carrier. This type of system has the capability to drive four propeller shafts, which causes it to produce a maximum speed of over 56 km/h. It gets this speed due to production of maximum power up to 190 megawatts by those reactors.
Range of Nimitz CVN-68
Range is a most important feature of this aircraft carrier. Actually, all the aircraft carrier of this series is fueled by nuclear power; they don't need diesel or any other expensive quantitatively limited fuel. Due to the nuclear power, the range of this aircraft carrier is almost unlimited, and is capable to cover a unrefueled span of 20 years.
Other aircraft carriers of Nimitz series
The name of the other aircraft carriers of this group that are nuclear powered are Dwight D. Eisenhower, Carl Vinson, Theodore Roosevelt, Abraham Lincoln, George Washington, John C. Stennis, Harry S. Truman, Ronald Reagan, and George H.W. Bush.
Defense of the Nimitz aircraft carrier
The Nimitz is equipped with various modern defensive equipment. Some of them are given below
It has 3-4 NATO RIM -7 Sea Sparrow missile launchers. These launchers are used against aircraft and anti-ship missiles
Four 20 mm Phalanx CIWS missile defense cannons
2.5 in (64 mm) Kevlar
Four Sippican SRBOC
Six-barrelled MK36 decoy launchers
RIM-116 Rolling Airframe Missile system
AN/SLQ-25 Nixie torpedo countermeasures system
Raytheon AN/SLQ-32(V) electronic warfare systems- used to detect hostile radar systems
Some interesting facts of Nimitz CVN 68
18000- 20000 meals are provided in a day by the food service department of this aircraft carrier.
It has the capability to store food of 90 days for its workers.
The post office handles nearly 1 million mails in a year for the workers of Nimitz.
It has a big hospital, in which 6 doctors and 80 beds are available.
4 distilling units are used to make 400,000 gallons of fresh water every day.
References
Reference- USS Nimitz (CVN 68)
Reference- US navy- Fact File
Images- Nimitz (CVN 68) Aircraft Carrier- Flickr.com–Pingnews.com
Image- Nimitz Aircraft Carrier CVN 68- Wikimedia.org