What is the Biggest Boat in the World?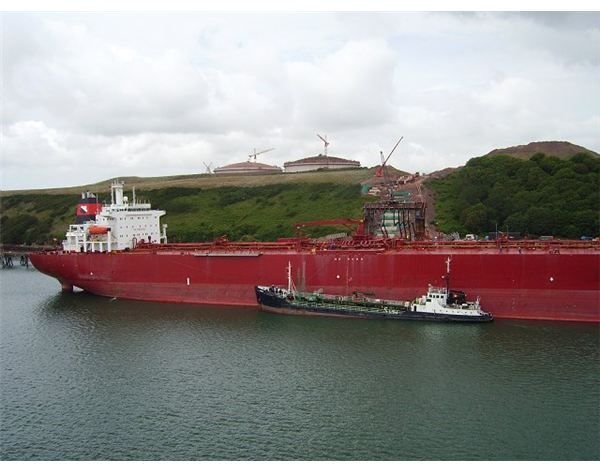 Knock Nevis/MV Mont
The title of the world's largest boat is one that obviously changes quite frequently. New boats are constantly being built, and boat makers are constantly pushing the envelope of size. For the time being, though, the largest seafaring vessel by size ever built is the MV Mont (formerly the Knock Nevis). At a massive 458.45 meters (that's 1504.10 feet), the boat is over a quarter mile long; it is 68.8 meters (225.72 feet) wide. The MV Mont's gross tonnage is 260,941 tons, and its capacity is 564,763 deadweight tonnage. This is the highest deadweight tonnage of any boat in history. The boat was built in Japan in 1979 by Sumitomo Heavy Industries.
It was so large, with a 24.6 meter (80.7 feet) draught, that it couldn't pass through many of the world's major shipping passages: the Nevis could not sail through the Suez Canal, the English Channel, or the Panama canal. The ship was capable of a sixteen knot speed, powered by steam propulsion. The ship has been renamed the MV Mont by its current owners, who have deliberately beached the ship and intend to junk it.
Batillus Class Supertankers
Though the Knock Nevis is the largest ship by size, it is not the largest ever by gross tonnage. That honor belonged to members of the Batillus class, four of which were built (Batillus, Bellamya, Pierre Guillamat, and Prairial). Prairial, the last remaining ship in the class, was scrapped in 2003. Ships in this class had around 275,000 tons in gross tonnage.
Emma Maersk
With the Knock Nevis scheduled for decommissioning, the largest active ship is now the Emma Maersk. The Emma Maersk, a Danish ship, is a container ship with a length of 397 meters (1,302 feet). Its deadweight tonnage is 156,907 tons, and is sailed by a crew of just 13 (though it has a capacity of 30). It is capable of travelling at a speedy 25.5 knots.
Image from Flickr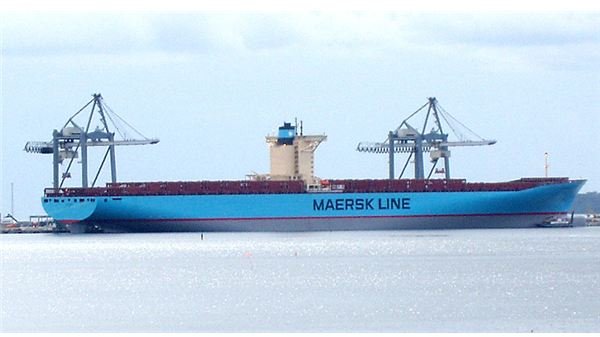 Largest Passenger Ship
The largest cruise ship is the Oasis of the Seas, a cruise ship in the Oasis class. The Oasis of the Seas was finished in 2008; it is 360 meters (1,181 feet) long, 60.5 meters (198 feet) wide at its widest point, and has sixteen passenger decks. The Oasis of the Seas has a capacity of 5400 passengers, with a total capacity of 6296 people.
Another ship in the Oasis class, the Allure of the Seas, is currently under construction. The ships are built by STX Europe, the makers of the previous largest cruise ship (Independence of the Seas), in Finland. The Oasis of the Seas holds another record: most expensive commercial ship, at 1.24 billion dollars. The boat features Central Park, a tropical garden; a rising bar, and seven different neighborhoods.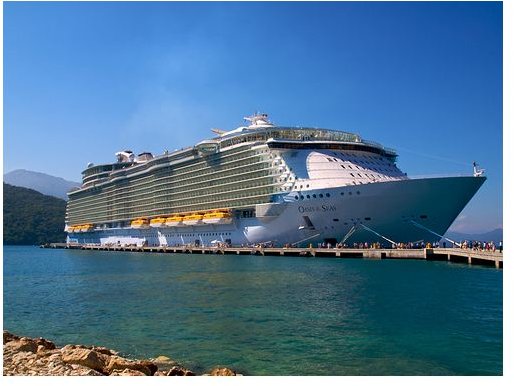 Sources