The 3208 Catepillar Marine Engine - History and Design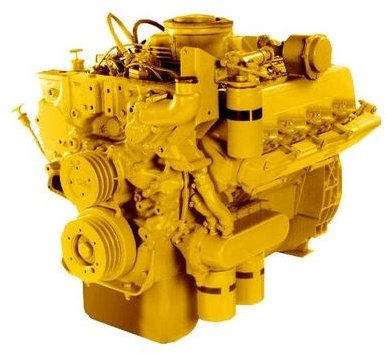 Introduction to Caterpillar Tractors and 3208 Diesel Engines
The Caterpillar Company was formed in 1911, after some years of research and development. It reputedly took its name from a farmer who was watching a test run and stated that it moved "like a caterpillar."
Caterpillar engines have proved to be reliable and cheap, and the 3208 is particular suited to fitting into all sizes of boats. An RNLI Lifeboat near Drogheda in Ireland is powered by twin 3208 turbo-charged diesels – such is their reliability.
This is an article on diesel engines and in particular the Caterpillar 3208 diesel engine and its application in modern times. We begin with a short history of the Caterpillar Company and move on to its assets.
Short History of the Caterpillar Company
As we saw in the introduction, the Holt Caterpillar Company was founded in 1911. It produced tractors and exported them to Canada, Argentina, and Mexico, gaining much experience which it used during the First World War.
During the war Caterpillar Armored Tractors were used extensively to tow artillery pieces such as howitzers. It wasn't long before the British Army Engineers saw the potential of using the track driven tractor as an armored tank.
After the war, the depression set in and Holt Caterpillar was forced to sell out to a competitor named Best who scrapped the production of large tractors in favor of smaller agricultural ones. He formed the Caterpillar Company in 1925. All the livery including the engines was painted yellow, distinguishing it from its competitor's machines.
During this time the engines were developing apace, and during the Second World War found fame once again when their diesel engines became the preferred engine as opposed to a gas (petrol) one.
Since then Caterpillar engines have become world famous. I worked on a couple of 3208 marine diesels over the years, and although they were very basic, I liked them.
They were reliable being easy to strip and repair as there was always plenty of spares around, no matter what part of the world I was working in.
Nowadays spares for the 3208 model are still available from various outlets; some EOL still supply, in fact you need to go there for certain gaskets and valve-stem oil seals and some spares. Facebook has at least four suppliers of reconditioned engines and used and new spares for this engine.
Typical Applications for the Cat 3208 Diesel Engine
Although the 3208 has been discontinued (1999) there are many still in service; the most popular applications for these engines are listed below:
The Caterpillar TA 3208, 375 HP will drive a 13T boat along at 35 knots.
Marine applications include main and auxiliary engines on the following vessels.
Cruise ships (aux)
Ferries (aux)
General cargo ships (aux)
Yachts and pleasure cruisers (main)
Offshore (aux)
Tugs (aux)
Fishing boats (aux)
Other applications for the 3208 caterpillar engine include:
Government Service Vehicles – garbage trucks, snow ploughs and blowers, delivery trucks and school buses.
Agricultural Machinery – combine harvesters, tractors, sprayers, and fork lift trucks.
Industry – excavators, bulldozers, cranes, low-loaders, articulated mining trucks, and backhoes.
Power Generation – emergency generators and temporary and permanent industrial power station standby gensets.
Design of the 3208 Diesel Engine
The original caterpillar 3208 diesel engine was a 225hp, 636 cubic-inch capacity V8 design. It did not have cylinder liners, but many engineering companies would re-bore the blocks and fit oversize pistons and rings rather than throw the engines away. (They were known as "throw away engines," which the makers claim was one of the design criteria.)
The 3208 emerged in 1973 as a turbocharged version but in 1981, major design mods such as stronger internal rotating parts, three-ring pistons, and beefed up oil and water pumps. The cooling system was also upgraded to include a bigger heat exchanger and seawater pump to cool the engine oil, exhaust manifolds, and turbochargers with the expansion tank and thermostats also being modified.
It was used in many applications but soon became a firm favorite with the yachts and pleasure boats fraternity, with the larger vessels having twin turbo-charged engines fitted.
Unfortunately, the engine was a bit of a gas guzzler and failed to meet the new internal combustion exhaust emission laws which were due to come into force in the new millennium; therefore it was discontinued in 1999.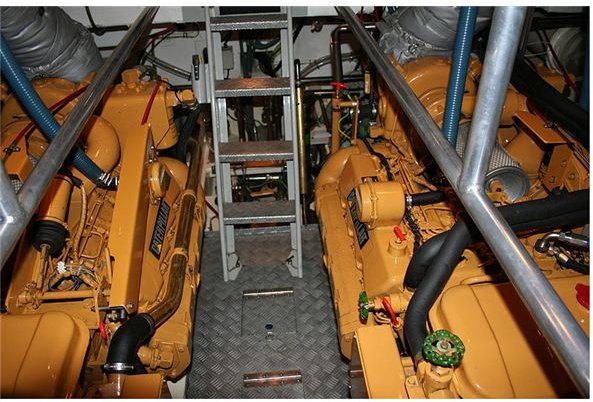 Internet Sites Visited
Image: Catsays Blog - Caterpillar 3208 TA Marine Engines
Website: Caterpillar
Website: Alibaba - Diesel Engines 3208
Website: Caterpillar Marine