Boiler water testing equipment and procedures explained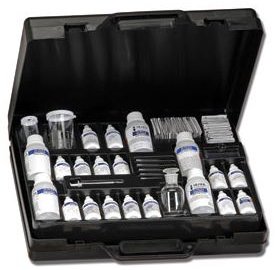 Introduction
Boiler water testing is an integral part of the routine boiler tests carried out on board a ship. Precise boiler water test assures higher efficiency and reduced maintenance of boilers. Careful monitoring of boiler water is of utmost importance in order to maintain correct water conditions. Failure to do so, leads to scale formation, reduction in efficiency and steam purity, and corrosive water conditions.
For this reason, boiler water tests are carried out with the help of specialized instruments, by checking the constituents of water before feeding it inside the boiler.
Boiler water testing equipment is a must on board ships and the testing is carried out with the help of professional water analysis kits provided by recognized water treatment companies such as Unitor And Drew.
Purpose and Objectives
Following are the objectives of boiler water testing.
1. To prevent scale formation in the boiler.
2. To prevent corrosion in the boiler feed system by maintaining the boiler water's alkaline condition.
3. To remove dissolved gases such as oxygen from water.
4. To control sludge formation, thus preventing carry over into the system.
5. To determine the amount of impurities and thereby determining the amount of treatment required.
6. To maintain and provide residual reserve of chemicals.
7. To improve efficiency, thus increasing boiler life.
8. For economical operation of boiler.
9. To exercise careful control over boiler treatment chemicals.
Boiler water tests
All the boiler water test kits come with a standardized step-by-step test procedure for various boiler water tests. The main boiler water tests that are routinely carried out on board are as follows:
Deha/Oxygen test - For testing oxygen and Chemical content
Hydrate Alkalinity - For testing the presence of hydrates
Neutralized Conductivity - For testing the presence of ferrous ions and metal contents.
Condensate PH - Measuring the acidity or alkalinity of the water.
Phosphate - For testing the presence of phosphate compounds. It is important to maintain minimum of 10 ppm of phosphate.
Feed Water Hardness - For testing the presence of carbonate compounds.
Though precise procedures are provided for each test in a BWT kit , there are few points that needs to be taken into consideration before initiating the test.
Before testing, all the test samples should be cooled to 25 degree Celsius with the help of sample cooler. This is done in order to prevent flashing which concentrates the sample. If the sample is coloured or turbid, filter paper should be used before testing.If the sample still remains turbid even after first filtration, the same filter paper should be used again as it will become more retentive after the second filtration.
References
Marine Boilers by G.T.H. Flanagan - Butterworth-Heinemann Publishers