High Speed Steel versus Carbide in Metal Cutting - Why HSS is Still in Use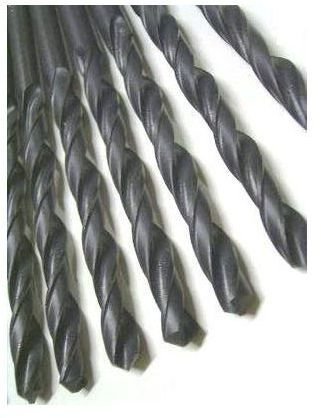 HSS - High Speed Steels - Still Playing a Very Significant Role in Metal Cutting
High Speed Steel is a high carbon tool steel, containing a large dose of tungsten. A typical HSS composition is: 18% tungsten, 4% Chromium, 1% Vanadium, 0.7% carbon and the rest, Iron. HSS tools have a harness of 62-64 Rc. The addition of 5 to 8% cobalt to HSS imparts higher strength and wear resistance. Typically, drills made with the addition of cobalt (popular grade types M-15 and M-42) are called "cobalt drills" and are used in high end drilling applications.
In Metal cutting, Carbide tools have gradually taken over HSS tools in many of the tool applications; but still HSS is widely in use in some specific segments of tools like drills, reamers, taps, form turning tools, gear hobbing and gear shaping cutters, side and face mills, end mills, slab milling and straddle milling cutters, slitting saws, form milling cutters and broaches.
The advantage of HSS over carbide is its strength to withstand cutting forces and the low cost of the tools. From the tool life point of view, HSS performs very well at intermittent cutting applications. But the greatest limitation of HSS is that its usable cutting speed range is far lower when compared to Carbide.
In the vast majority of cutting applications, namely turning, boring, and face milling, Carbide tools and inserts have near-totally taken over HSS tools, and HSS has become virtually extinct in these applications. But that's not the case with drilling.
[ Fig.1 HSS Drills - Fig:2 A HSS Form Tool for Turning]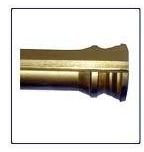 HSS in Drilling
In applications like drilling, very gradually solid carbide drills are taking over HSS drills, particularly in CNC machine tools; but from cutting economy in drilling, particularly when drilling small diameters and larger depths, HSS cannot be dispensed with easily. Drill breakage while cutting is a very costly affair with solid carbides and every breakage will prove to be costly on productivity too, as production stops till the tool is replaced. Another great advantage of using HSS drills is that the HSS drill can thrive and perform even in old and infirm machine tools with limited power.
As power requirement for cutting is directly proportional to cutting speed (with other cutting parameters like feed rate remaining same), use of HSS becomes unavoidable in machines with limited power.
HSS drills can withstand the vagaries of poor run-out in spindles, weak slide ways, etc, in older machines and still do their job adequately, whereas their carbide counterparts cannot.
HSS in Form Tools and Cutters
HSS continues to be the best and cheapest when it comes to multi-toothed form cutters like gear hobbing cutters, form mills and broaches. Replacing these tools with carbide (in the form of brazed carbide tips) is not only a costly and cumbersome affair in tool manufacture, but also very detrimental to production in the event of tip breakage. Re-sharpening of tools is also breezy when it comes to usage of HSS form tools.
[Fig:3 HSS Gear Hobbing Cutters] [Fig:4 A TiN coated HSS Gear hobbing cutter]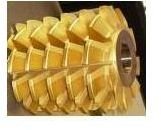 Cutting Speeds with HSS
As already mentioned, HSS can in no way compete with Carbide tools when it comes to cutting speeds. Under equally suitable applications, a carbide tool can cut 4 to 12 times faster than HSS (depending on work material and type of operation) and naturally, the productivity is proportionally high.
Here are some generic data on the range of cutting speed in which HSS tools can work:
……………………………………….Cutting speed in m/min
Work Material …………….Drilling ………..Tapping …………Milling/Hobbing
Free cutting steels ………..20-30 …………..9-12 ………………..30-40
Mild steel ……………………20-23 ………….11-12 ………………..25-40
Medium carbon steels ……14-20 ……………8-11 ………………. 20-30
Alloy steels ………………….18-22 ………….10-12 ……………….10-20
Stainless steels ……………12-15 ……………8-9 …………………15-20
Cast Iron ……………………..20-23 …………..9-12 ……………….20-30
Aluminium alloys …………..35-55 ………….14-18 ………………60-100
Titanium alloys …….. ……..12-15 …………….8-9 ………………..10-30
[Note: to convert cutting speed given above to SFM (surface feet per minute), multiply by 3.28]
Living with HSS, How to Improve Productivity?
a) Use of Cobalt drills and cutters:
Actually, "cobalt drills/ cutters" (which actually refer to HSS tool grades M-15 and M-42 that contain 5% and 8% cobalt) were developed to tackle drilling of tough materials like Stainless steel, Inconel, tool steels, titanium alloys etc.
Where a switchover to carbide tool from HSS is impossible and totally uneconomical, use of these cobalt tools is one option available to process engineers to increase productivity for machining normal steels and other regular materials. This option is also resorted to, when increased tool life for a given cutting speed is the need of the hour.
With cobalt drills, increase in cutting speeds up to about 40% or more over regular HSS drills can be possible, with other conditions remaining similar. Depending on the drill size and minimum order quantity, Cobalt drills can cost from 1.75 to 2.5 times more than normal HSS drills. A right compromise between increased tool life and increased productivity has to be arrived at to effectively balance the increased cost of the tools.
b) Coating of TiN on HSS tools
The next alternative in increasing productivity with HSS tools is to coat the drills and cutters with materials like TiN (Titanium Nitride) by Physical Vapor Deposition (PVD) or Chemical Vapor Deposition process. Advancement in coating technology is bringing in other coatings like TiAN, TiCN, and CrN.
Such coatings considerably increase the wear resistance and lubricity at the cutting point and facilitate use higher speeds and feeds and improve tool life. TiN coated tools can easily be identified by the characteristic golden color coating on HSS tools.
TiN coating can increase the cost of drills by 30 to 50% depending on size and batch quantity and practically about 30-100% increase in drilling speeds can be applied with coated drills. It should be noted that regrinding of drill point is going to take away the coating at the cutting point. If the rake angle is retaining the coating even after regrinding, to that extent, the coating remains useful, though to a reduced extent.
It must be noted here that the quality of coating plays a very vital role in the effectiveness of coating and it can vary considerably from supplier to supplier. As a consequence, the benefits of coated HSS tools may also vary.
[Fig:5 Tin coated HSS drill]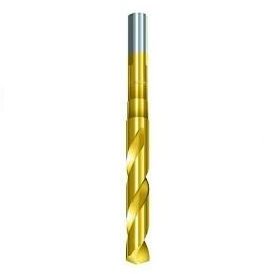 So, we can conclude that HSS tools will continue to play their vital role in manufacturing for more years to come. Total replacement of HSS by carbide tools can only be a distant dream. It would be interesting to watch the future scenario in technology as to how HSS tools are going to improve further to meet the compelling demands on productivity.
References:
CMTI Machine tool Design Hand book – Mc Graw Hill publication

Cutting Tool materials of common use – Version 2 IIT Kharagpur
This post is part of the series: Metal Cutting - Understanding the roles played by Various Cutting Parameters
In metal cutting, various cutting parameters like cutting speed, feed rate, depth of cut, tool material, work material etc are involved. This article series explores the influence of each on the other parameters. Part:1 introduces the parameters in brief. Subsequent parts elaborate them one by one.
Conventional Metal Cutting - Understanding the Roles Played by Various Cutting Parameters - (a) Machinability