CNC Foam Cutter Software for Hot wire Foam Cutter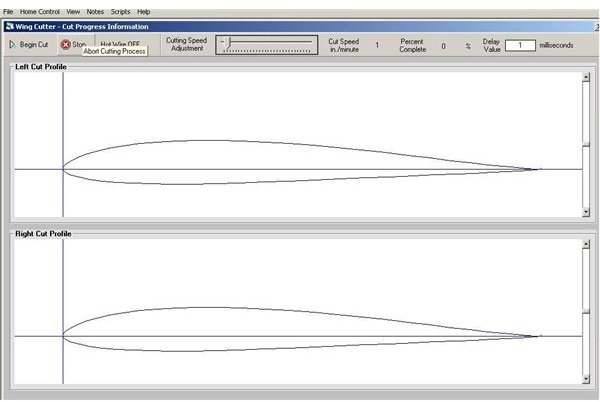 The hot wire CNC foam cutter is a simple but very important machine tool especially for hobbyists. It cuts the foam in different shapes by using an electrically-heated wire as a cutting tool.
The four stepper motors control the +X, +Y,-X,-Y direction movements of the hot wire and thus enable you to cut different shapes out of the foam block. The foam block has to be placed in between the two carriages.
General Working Procedure for All the CNC Foam Cutter Software
Initial Settings: You have to provide the following inputs to the software before a cutting session:
Distance between the two parallel sleds (posts).
Size of the foam block.
Distances between the foam block edges and the sleds.
Sections: Create/import the sections you require at both the sides of the foam block. Instead of the sections, you can even specify the co-ordinates of the points, by joining which the sections can be generated.
Cut it now: You can now cut your foam block.
Various Available Software Packages
1. Foamworks :
It can control four axis CNC's.

It can take DAT or DXF file as input for the sections.

The program contains one section dedicatedly for RC wing foils.

You cannot draw the sections in the Foamworks itself; you either have to use Cadworks or any other 2D CAD tool and then save the sections to DAT or DXF format.

Foamworks 3.0 will cost you around $49.

Foamworks should be used with any controller that doesn't have a timer.

You can download the free demo version and use it for thirty days.
2. Jedicut :
Jedicut is free hot wire foam cutting software.
It can control four axis CNC's.
English, Spanish, "Deutsh," and French languages can be chosen while installing.
It can support the following CNC controller boards: MM2001 french board, VISUAL CNC kit, HobbyCNC kit, Xavtronic USB/parallel port adapter for MM2001 board (and compatibles).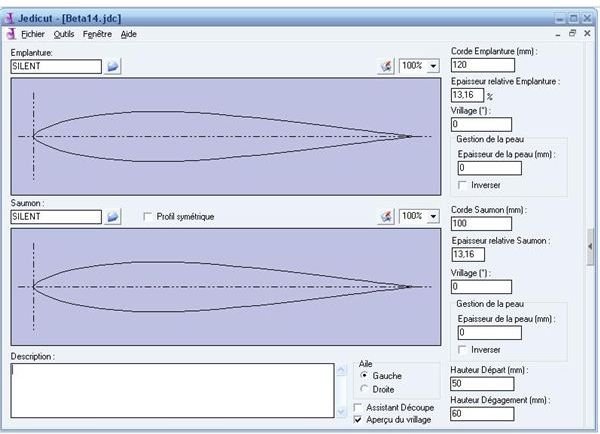 Supports DXF R12 and DAT file input.
It has material management options with a cutting configuration wizard.
3. CeNeCe PRO V.1.12 :
It is also four-axis wire cutter CNC software.
Will cost you around 175 euros.
Supports Spanish, English, French, Portuguese, and Italian.
Supports most of the control boards available in the market.
Can Load, modify and visualize DAT (in multiple formats) SCR, CUT, PLT, COR, USR, PLF, STL, DXF and DWG files.
4. GMFC PRO:
Will cost you around 150 Euro.
It supports hobby CNC, MM2001 and some other CNC boards.
You can use DAT and R12/R2000 DXF files as input.
Can support multiple foam types.
Demo available for thirty days.
Conclusion
These hot wire CNC foam cutter software applications are used for generating codes understandable by your CNC controller from the cross section drawings files. You can make your own hot wire CNC as well as can purchase a readymade one, but in both cases, you will require CNC foam cutter software to run the machine. Before purchasing commercial software you can try for the free one and the demo version based on your controller board.