A9CAD: Free CAD Design Software Download. Free Online CAD Software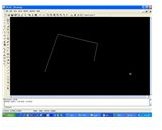 I loved the free CAD software A9CAD because of two reasons: first, it's free for non-commercial use and, secondly, it is truly user friendly. I mean, I have never expected that such user-friendly software can also be a free CAD program. It's a basic 2D CAD package. The GUI of A9CAD looks like this:
A9CAD Software
Observe the above snapshot, and, yes, you are seeing it right. The GUI is very much similar to that of an older version of AutoCAD (1998 or 2000). Let's discuss some of the important features of the CAD package in detail.
Basic Commands: The CAD package has basic 2D drafting capability. So you will find the icons of all the basic 2D drafting operations like: Line, Circle, Arc, Rectangle etc. Much like AutoCAD the operations can be performed from the command line as well. Even most of the AutoCAD keyboard short cut commands will work with A9CAD as it is. For example, if you type L in command line, a line can be created in A9CAD.
Editing: Basic editing commands (like Undo, Redo, Cut, Copy, paste) in A9CAD are like AutoCAD. However, some of the editing operations (like paste as a block, paste special etc.) are not available with A9CAD. Also, right click options are not available.
Text and Dimension: Writing text in A9CAD is pretty similar to the single line text of AutoCAD. You can create the bold or italic texts. However, a multiline text creation option is not available in A9CAD. Many dimension control options are available with the CAD package but not as much as AutoCAD. You cannot change the types of arrow in A9CAD. You can't apply tolerance and GD&T symbols in drawings.
Printing: Printing option in the CAD package is similar to that of the Microsoft Word. Not that sophisticated like AutoCAD. The "Window selection" option is not available.
File Format:** The drawing file created in A9CAD is saved either in .dwg** or in **.dxf** format. It is also possible to convert an A9CAD drawing in PDF format. So, you can open an AutoCAD in A9CAD and vice versa.
Settings: By changing various setting options you can change the cursor size/color, hatch line, text styles/colors, snap/grid styles etc., enough for basic 2D drafting. However the Auto lisp customization or similar feature is not available for the free CAD software.
Layer: The layer operation for the CAD package is almost same like AutoCAD. You have all the necessary options like Frozen, Lock/Unlock, Color, and Line type and line weights.
Zoom: All types of zoom (zoom in, zoom out, zoom previous etc.) seen in AutoCAD are available here as well.
Conclusion
A9CAD, a 2D CAD freeware drawing application, is very similar to AutoCAD. The biggest strength of the free CAD program is that it can save and read the file in .dwg/.dxf format, so you can open a AutoCAD file directly using the CAD tool and vice versa. Please note that the free cad software is for non-commercial use only, so in case you want to use it otherwise, you have to purchase the license. You can down load A9CAD here.