Specialized Bearings - Thrust Roller Bearings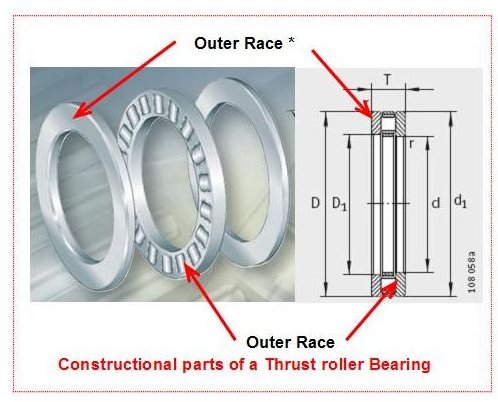 As the name suggests, the cylindrical roller bearings are also specifically meant and constructed for the carrying of axial or thrust loads in the shafts. The roller thrust bearings tend to posses certain advantages. They are as follows
They have very low axial section height making space requirements much less for mounting and assembly.
They have a high load carrying capacity due to the presence of rollers, which bring about a line contact enabling the bearing to carry more load.
They posses high rigidity due to the constructional aspects of the bearing.
Constructional aspects of the bearing tend to remain similar to that of a thrust ball bearing except for the rolling element. The image below shows the constructional aspects of a thrust cylindrical roller bearing. (Hover the mouse to read the image label or click the image to enlarge it.)
Constructional Aspects:
The bearing consists of two outer races which are also called "washers." One of the washers can be used for mounting as face located as well as shaft located. This is normally made to face the direction of the axial load enabling the load to be transferred to the housing via the bearing.
The second washer or the race has a bore slightly larger than the first one and is normally a supporter of the rolling element at the other end.
The third is the rolling element which is held together by means of the cage. The cage is normally made up of brass, pressed metal, or, in certain cases, high grade plastics.
Variants:
There are two variants in the thrust roller bearings. They are
Thrust Cylindrical Roller Bearing – Single Row
Thrust Cylindrical Roller Bearing – Double Row. (Shown in image below.)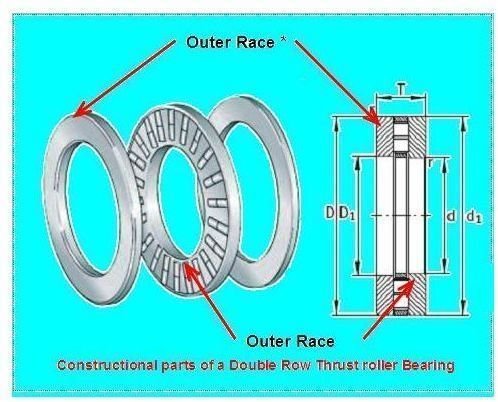 Assembly Constraints:
Thrust roller bearings like taper roller bearings need to be properly preloaded and mounted in order to get the best performance out of them. The following points must be taken in consideration during assembly.
They should be fully supported on their abutment surface.
The abutting surfaces must be rigid, flat, and perpendicular to the axis of rotation of the shaft.
Technical Specifications:
The Thrust Cylindrical Roller bearings normally start with the series number of 811 and 822 for single row thrust roller bearings as the starting numbers, for example 81105. In the case of double row thrust roller bearings, they are normally denoted by 893 and 894, for example 89305.
The bearings are available in both metric and inches series.
This post is part of the series: Types of Bearings - 2
This series will introduce and explain on the various kinds of bearings that are available and are being used. This series will cover all the kinds of bearings with their constructional, working and special aspects of each type of bearing.