Non-Destructive testing is one of the best available means for detecting the internal flaws in the bearings without destroying or causing any damage to them. Let us now discuss on Magnetic particle inspection of non-destructive testing methodologies available for testing of bearings
Magnetic Particle Inspection:
Nearly all the components of the bearing that we currently use are ferromagnetic materials. The following procedure is followed for the magnetic particle inspection in the bearings.
Methodology of Inspection
· The area of the bearing that is to be tested or inspected in thoroughly cleaned of metal particles and other dirt. It is clearly ensured that no metallic or non metallic particle sticks on to the bearing.
· The bearing is then directly exposed to a magnetic field for a specified duration of time that magnetizes the complete bearing.
· A light sensitive solution (a solution that glows in ultra violet light) of high permeable parts is then applied to the bearing surface where the flaws have to be detected.
· An instrument which is in contact with the bearing generates a current which in turn produces a magnetic field in the bearing due to the circulating current in the bearing.
· This magnetic field causes the high permeable particles to align themselves to stray fields of magnetism that may occur due to the presence of cracks and internal flaws in the corresponding bearing components. These stray fields are normally caused due to surface cracks or due to internal non-magnetic inclusions.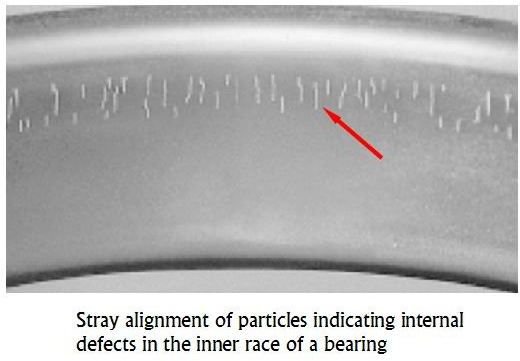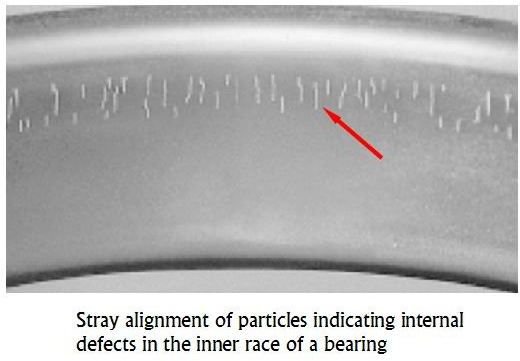 · Ultra Violet rays can be used for detecting the accurate alignment of the light sensitive highly permeable particles. The visibility of their alignment is greatly increased due to ultra violet light.
This method is easily applicable on all bearings that posses iron based components in them.
Drawbacks
· With the current development of bearings having ceramic rolling elements, high end plastic cages, non ferrous cages, etc. this method cannot be effectively applied on such cases.
· This methodology requires special equipments for magnetizing of the bearings.
Advantages
· The testing of bigger size bearings and heavier bearings is normally done using magnetic particle testing.
We will look into the other methodologies of non destructive testing methods of bearings in the forthcoming articles.
This post is part of the series: Detection of Internal Flaws in Bearings
This series deals with the methodologies used for detecting the internal flaws in the bearings other than the dimensional inaccuracies present in the bearing.