Misalignment is a common terminology in the engineering field each engineer is significantly aware of. We have seen Misalignment destroy shafts, couplings and various other machine elements, but they also tend to have a severe effect on bearings Misalignment tends to cause unpredictable reactions in any machine element, starting right from vibrations to increase in temperature and in certain cases instant failure. Now let us see the effects of Misalignment on bearings.
Misalignment: Some of the most prevalent causes for misalignment in bearings are
· Bent shafts.
· Burrs or dirt on bearing mounting surfaces and bearing abutment surfaces.
· Shaft shoulders which are not perpendicular to the bearing abutment surface
· Locking nut faces which are not perpendicular to the bearing seating face.
· Non- Concentric bores on which the bearings are mounted leading to an angular axis of rotation of the shaft and thus misaligning the rotating axis of the bearings.
A change of misalignment in the order of 0.01 mm/10mm is enough to cause huge rise in vibration and temperature in the bearing. This sudden rise in temperature and vibration spurts heavy wear in the ball or roller pockets where they run. They can be identified by a non parallel running mark of the ball on the outer raceway. The misalignment also is indicated in the inner race by means of extra wide ball or roller pathway on the inner race. Moreover discoloration of the bearing also tends to occur due to the sudden increase in temperature.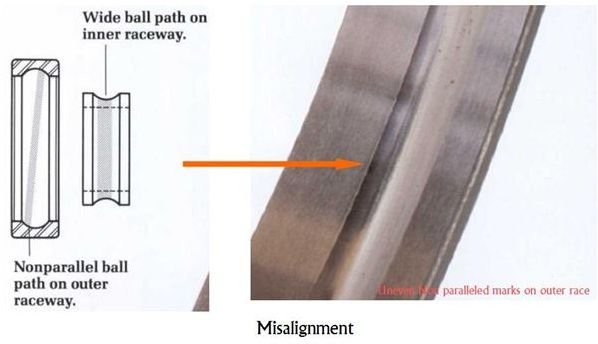 The misalignment also leads to the uneven and severe wear of the roller cages which holds the rolling elements in place. Once the cages are damaged, contact between the rolling elements is established leading to uneven running of the bearing and ultimately failure of the bearing.
Instead of specifying the remedial measures for prevention, we must ensure certain preventive procedures before the bearing is assembled on the shaft. They are as follows:
· Inspection of the shafts for bends, run outs, out of squareness of the bearing abutment areas.
· Usage of precision grade locking nut assemblies for holding the bearings in place.
· Inspecting the bearing housings for concentricity.
By ensuring these points, the failure of bearings due to misalignment can be totally eliminated.
We will look into the other types of bearing failures in the next article.
This post is part of the series: Failure modes in Rolling Bearings
Bearings are normally designed and selected to last for a life time. Any failure occurring in it needs to be identified properly. This article will help you in determining the various causes and the type of failure the causes tend to induce on the bearing.