Electric Heat Pump Water Heaters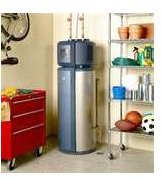 Introduction
Water heating is a thermodynamic process in which water is heated from any external heat source that has a greater temperature than that of water. The development of the hybrid electrical water heater is an effort to make the water heating process eco-friendly and reduce power consumption.
This water heating system can be used in both space cooling and water heating. It extracts heat from the surroundings and transfers that heat to the water. In other words we can say that, it is a device that can transfer heat from air to water and this is its main principle.
As a heat pump, the system is better to use in warm places in order to get a higher quantity of heat. However, this does not mean that it cannot work properly in conditioned places. A hybrid electric water heater can work at temperature as low as 40 F. When used in a conditioned place, it works like an air conditioner- removing heat from the air and transferring it to the water. During the heating season, this means that the house's furnace is taking some of the load for heating water with these systems. (If not installed in the same position as an existing water heater, high voltage supply current will be need to provided.)
Characteristics of Hybrid Electric Water Heaters
This appliance has many characteristics that make it different from other systems:
It is a combination of two technologies: the tank-type water heater and a heat pump.
It has a dual activation property, i.e. flow sensing and thermostat control.
The multi-pass heat exchanger forces the heat to make its direction downwards, and then recycles it through baffled pipes in order to get maximum efficiency.
It has minimum fixed fuel usage and thermostat activation during low-flow situations. Because of this, it starts working like a tank-type heater.
It also has a few features that are similar to tank-type water heater such as floor-standing installation and a draining pan, and it can be installed with a recirculation pump to get even more water efficiency.
The GE Hybrid Electric Water Heater
Demand for these systems is expected to increase in the US. Because of this, many companies have started working on related projects. General Electric's Consumer & Industrial Division (GE) already has announced that they will start manufacturing highly efficient hybrid electric water heaters in Louisville, Kentucky. This new technology will make this company the first manufacturer to introduce a water heater that will meet the 2010 Energy Star standards for heat pump hot water heaters.
Savings by the GE Hybrid Electric Water Heater
The new GE hybrid electric water heater requires 62% less electricity and uses nearly 1,850 kilowatt-hours of electricity per year. Therefore, it saves $320 per year.
Comparison with Tank-type Water Heaters and Tank-less Water Heaters
The hybrid water heater is made up of stainless steel. Tank-less water heater is made up of copper, and steel with perhaps a ceramic lining is used in tank-type water heater.
The efficiency of hybrid, tank-less, and tank-type water heaters is 86%, 80%, 60%, respectively.
The emissions of nitrous oxide and carbon monoxide is very low in hybrid electric water heaters as compared to gas-powered tank-type and tank-less water heaters.
The exhaust temperature is 128 to 155 F, which is very low compared to the others.
Summary
The heat pump electric water heater is a better option for water heating. Although it is more expensive than others, it reduces the yearly power consumption in a household so as to maintain the budget. It is more comfortable than others, because it is easy to install, easy to operate, and requires only a small installation space. It absorbs heat from surroundings; hence, it is better to use this system in hot places of a house such as basement. The efficiency of this system is higher than any other water heating system. The main benefit of this system is that it is helpful for environment, because it uses less energy for the same amount of water heating.
References
Image- Hybrid electric water heater- geappliances.com