Introduction
Thermography is a method that provides information about heat distribution over any surface. A remote sensing technique is used in this method and can be operated by only one person. It also used to detect air leakage, pathways, and insulation discontinuities.
A thermographic survey is used to provide heat distribution of an object so that to make predictive maintenance strategy to control and manage the failure of the object such as electrical and mechanical equipment, buildings, etc.
This technique requires a thermal imaging camera, which has the capacity to measure the temperature to 0.1°C. This camera captures a heat distribution image and reports in full color.
How does a Themographic Imaging Camera Work?
The camera used in a thermographic survey must have infrared detection capability. It measures the heat and records the heat distribution. Then it develops an image, which is then used to study the object condition. This analysis is used to examine, adjust, and maintain the object being measured.
Different types of Thermographic Surveys
Manufacturing Thermographic Survey
This survey is used for electrical and mechanical equipment such as electrical control panels, electrical distribution boards, transformers, electric motors and gearboxes, and mechanical couplings.
Thermographic Survey for Process Plants
This thermographic survey is used for process plants, and storage and pipe lines such as boilers, heat exchanges, steam traps, pipe insulation, and tank levels and insulation.
Thermographic Survey for Building Maintenance
This survey is used for building maintenance such as roof and wall heat loss, water ingress, insulation breakdown, and framework identification.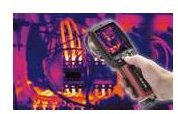 Benefits of a Thermographic Survey
Thermographic survey is very useful to reduce the risk of fire in electrical control panels.
This survey is also beneficial to improve the efficiency of electrical and mechanical equipment.
This system is used to predict insulation breakdown, so corrective services can be performed accordingly.
This survey is helpful to prevent the unscheduled down time of equipment.
It also affects production of the equipment.
Its maintenance features increases the service life of the equipment.
It provides the ability to plan and schedule repairs.
It also reduces spare parts inventory.
Applications of Thermographic Survey
The technology of thermographic survey sis used in various areas. Some of them are as follows:
It is used to protect Electrical Control Panels.
Mechanical and electrical devices are also maintained by thermographic surveys, such as electric motors, electric pumps, and gearboxes.
Electrical cables are protected by thermographic surveys.
It is used in LV/HV Substations.
It is used to protect switches, fuses, and circuit breakers.
Distribution boards can also be protected by thermographic surveys.
It is used in underground heating pipe work.
It is used in the protection of buildings.
How to choose a thermographic survey provider
It is very important to choose a good thermographic survey provider. You should keep a few things in your mind when hiring a thermographic survey provider.
A good thermographic survey provider gives professional indemnity insurance, public liability insurance. Insurance is very important; it is economically helpful during any failure of equipment or building.
A site safety pack must be provided by them. This site safety pack includes policies and procedures.
They must have recognized qualifications.
It is better if the company is a member of CSCS.
The workers of the company must have the certification in IPAF training.
They must have suitable equipment for the particular work such as deckscanners, thermographic cameras, and ELD equipment.
The company must be ISO registered.
They must have the good experience to inspect an area and know how to make or recommend repairs to reduce maintenance costs.
Summary
A thermographic scan and report is useful technology to improve the safety and efficiency of your factory or business location. The survey will provide a detailed report about heat losses and unexpected heat gains, helping you to pinpoint potentially unsafe conditions in wiring and control panels as well as thermal insulation losses affecting the air conditioning system. The survey reduce your maintenance cost, and yourproduction line or office comfort and efficiency will be increased.
Your building will remain safe due to this technology. This will provide you the ability to predict problem areas in your building before the problems occur so you can make corrective actions in time.
References
Reference- Infrascan
Reference- Thermographic Survey Ltd.
Image-Thermographic Survey–presentingelectrical.co.uk