Electrical Safety in Swimming Pools and Other Areas
Electric shock is only a real hazard in a swimming pool if you are ignoring certain precautions. People use many electronic gadgets and various types of hradwired electrical equipment in the swimming pool area. The permanent or temporary connections of wires of electrical devices such as underwater lights, CD and DVD players, automatic clocking devices, pace locks, and electronic speakers may come in contact with the water and cause an electric shock. Therefore, you need to follow some precautions and instructions given below for electrical safety around water.
A large number of electrical appliances are used in swimming pool area. It is important covering them with protective and waterproof cover properly to avoid their contact with water.
Pumps, appliances, and lights used in swimming area should be installed properly according to manufacturer instructions.
Televisions, radios, and similar appliances should be kept away from the water environment.
The lights placed inside the pool must be checked regularly.
Electrical maintenance should be done only by a licensed electrician.
As a swimmer, you have to follow electrical safety tips whether you are swimming in swimming pool, lake, or sea. You must not use extension leads and electrical appliances or cords near the swimming area. Moreover, If you are using lights or any electrical device, try to place them somewhere else so as they can't fall or slip into the swimming area.
Electrical Safety in Boats
The safety measures that you use in homes to avoid electrical hazards and shock can also be used in boats. You can minimize the chance of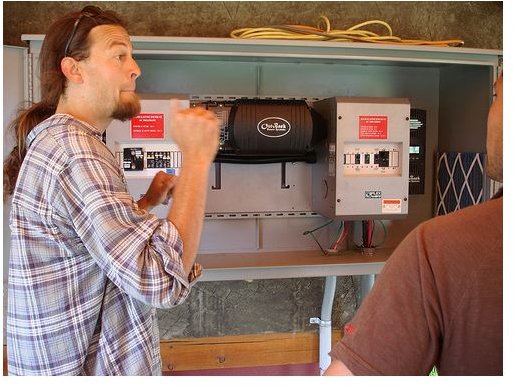 electrocution by ensuring that the wiring in the boat is done properly by a professional, and it is checked and maintained periodically.
Metal spars or masts are a conductor of electricity, therefore, you have to check the clearance between masts and overhead power lines. Raise and lower the mast according to this clearance. The clearance between the highest point of the boat and lowest point of the power lines should be kept at least 10 feet.
Keep the tide into consideration while determining clearance. Use the 10 foot rule at high tide to give the minimum height of the wiring.
Drying sails and sheet lines should be kept from blowing into power lines.
Look overhead at the power lines before putting the boat in water or while docking.
Underwater gas and electrical utility lines are indicated by special signs. You should have the ability to recognize these signs. Don't anchor the boat near the underwater gas or electrical utility lines.
If your boat comes in contact with power lines, don't immediately jump into the water! This is because the electrical charge may be passing from the boat into the water on its way to look for a ground. If you jump in, you become a part of the circuit. Instead, you should remain on the boat and avoid touching metal objects. Wait for assistance to arrive; you can leave the boat when it has moved away from the power line.
Electrical Safety in Docks
Various heavy machinery is used in and around docks such as welding machines, cranes, motors, compressors, cutting machines, bending machines, and sand blasting equipment. Therefore, there is a greater chance of dangerous electrical hazards being present. These hazards are electrocution or shock burn, and short circuit.
The possibility of electrocution near docks is very high because workers have to work over metal decks and in a wet environment. It may occur due to contact with energized electrical equipment and wet surfaces and can cause unconsciousness. You can avoid this by following a few safety precautions.
Before performing an operation, make assure the equipment that you are going to use is grounded.
Use rubber or other insulated decking for testing and adjusting energized circuits.
The circuit breaker and fuse location must be tagged so as to indicate the work is in progress.
After adjustment of the circuit, use an insulated cover to cover the circuit.
Mats, gloves, and other insulating materials must be checked periodically.
The electrical equipment must be inspected before use.
A short circuit is a dangerous problem that occurs mainly due to failure of insulating material. It causes instant power failure; moreover, it is enough to kill a worker and to destroy the electrical appliance. You can avoid this hazard only by working carefully. However, fuse and circuit breakers are used to avoid short circuit. You need to switch the power off and inspect the insulating material before start repairing the circuit.
You can follow the above instructions for electrical safety around water. These electrical safety tips are not difficult to follow and if you work carefully you can save not only your life, the life of your family and people around you as well.
Rreferences
Electrical Safety For Swim Coaches
Water and Electricity Don't Mix: Boat in Safety