Designing and Installing a Shoulder-warming Radiant Heat System for a Factory or Shop Space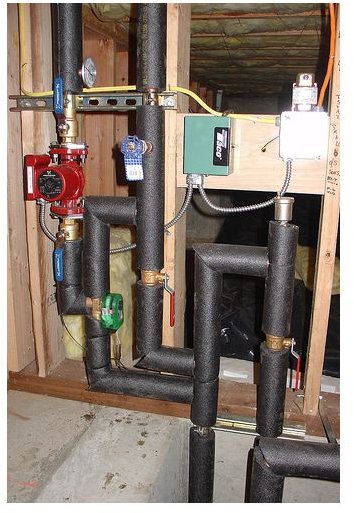 The technology of radiant heat systems is based on the principle of thermal radiation. This system uses electromagnetic radiation (infrared) to heat the room, factory, or shop space. Hydraulic tubing loops are heated using electricity, LP gas, or hydraulics, which distribute the heat throughout the space through thermal radiation. Radiant shoulder heating or shoulder warming systems provide better performance in shops and factories than most other forms of space heating.
Once this system is decided on, implementing it can be a challenge. It is important to know how to design a radiant heat system before the installation in order to avoid many of the common complications associated with these systems.
Zone Systems
A thermostat used in this system controls one or more heat loops. This structure is known as section or zone. There are two
types of zone systems: single zone systems and multi-zone systems. In a single zone system only one thermostat is used. In a multi zone system, more than one thermostat is used based on the space's heating requirements. The single zone system is used where uniform heating is required, for instance, in a factory or shop space. In other cases, including home heating, when non-uniform heating is required, there will be a different temperature for different rooms.
Finding the Heat Losses
Identifying heat loss is an important factor when designing and installing radiant systems. If the shop of factory has several windows, poor insulation, or a northern exposure, then you will need to use multi zone system to compensate for these heat losses. If carpets or hardwood are used in the floor then use of a single zone system may be enough to heat the area. These heat losses are also compensated by adjusting the tubing space - closer spacing is used for carpeted area and wider spacing is for tile area.
Tubing Loop Size and Spacing
Generally, ½ inch tubes are used in shoulder level radiant heat systems. The spacing of tubes is between 8 inches and 16 inches, based upon a few factors including required temperature, heat loss, flow type, flow rate, and more. Living and office areas require 8 inch spacing. Non-living areas like basements, garages, factories, and warehouses require 12 inch spacing.
There are certain things to keep in mind while designing a system;
Closer spacing is required in first few tubing rows along the walls.
The installation cost of closer spacing is higher.
Closer spacing provides better heat distribution and control.
Determining the Length of Tubing
You can calculate the length of tubing for each zone in a system by multiplying the square ft of the area by the spacing multiplier (8 or 12). The loop length in a zone must not exceed 400 ft in. however, it is recommended that you don't use tubing over 300 ft. because a shorter loop always works better and provides less heat loss.
Installation of Tubing Loops
Secure the tubing loops using screw clips for each 30 inches of tubing. You can calculate the number of screw clips by dividing the length of tubing (in feet) by 2.5. You can alternatively use tubing zip ties in place of screw clips if you wish. Once the loops are secure it is time to pour the concrete. While pouring, attach protective sleeves where the tubing loops cross expansion joints and control grooves. Slab risers are also required to protect tubing loops. Two slab risers should be used for each loop. After the heating system is completely installed wait for 24 to 48 hours for the concrete to cure before testing.
Manifold Configuration
Two types of manifold configurations are generally used:
Single zone manifold with multiple loops
In this type of configuration, the circulator pump is directly installed to the manifold. It is then controlled by a 110V thermostat.
Multi-zone manifold with one loop
In this type of configuration, the circulator pump is installed with a loop actuator. The thermostat voltage is 24V in this system.
The single zone manifold with multiple loops gives better results for factories and shop spaces.
The cost of installing a radiant heat system is comparatively high, but it can reduce your electricity bill significantly in future. This system is very user friendly and offers a better heating arrangement for a factory or shop space than other systems. It is also the best heating solution for people who are suffering from allergies (because there is no circulated air to spread allergens). A radiant system requires a knowledgeable installer with experience in electrical wiring. If you are not familiar with this then get help or have the system installed by a licensed electrician. Don't forget to follow NEC and other local electrical codes.
References