Unigraphics Tutorial – Know UGS Swept Operation, Create UG NX6 Swept Feature, Learn UG Sweep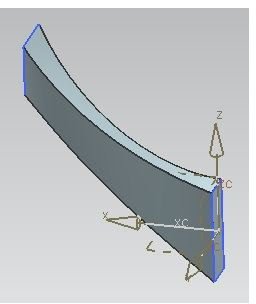 Using sweep operation you can create a tubular kind of feature with any cross section. So, if you need to create an "S" shaped I-beam model or something similar to that you should think of using sweep operation in UG. There are three types of sweep operation available in Unigraphics: Variational sweep, swept, and sweep along guide. This tutorial will discuss only about the swept. the Swept operation in UG is equivalent to swept blend in ProE.
How to Create Swept Feature
For example, lets say you need to create a feature like below:
And, you have the cross sections of both the ends and the curve (guide curve), which will give the shape.
Draw the start section, end section and the guide curve as below: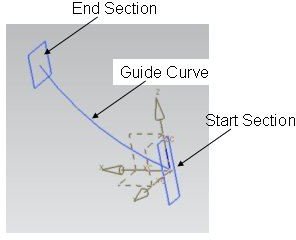 Next, go to Insert→sweep→swept. You will get a dialogue box like below: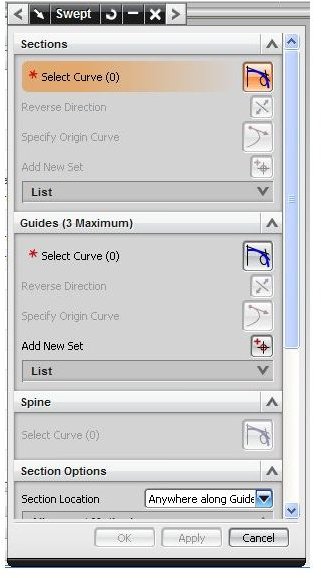 Select all the curves of the start section one by one. We have two sections in our example (start and end). So, click on the Add new set icon for selecting multiple sections and select the end section curves.
While selecting the curves, you will observe the start point of the section highlighted by a green arrow. The location and the direction of the arrow is important as you need to maintain the similar location and direction of the start point for both the sections (start and end).You change the direction of the arrow by clicking the Reverse direction icon.
Now click on the Select Curve icon of the Guides section and select the guide curve. You can add more than one (up to three) guide curves by clicking the Add new set icon of the Guides section.
You can use the Reverse Direction icon for changing direction for the guide as well.
Now click the Ok button to see the swept feature.
Conclusion
The Unigraphics swept operation will enable you to create a tubular kind of feature with different cross sections and guide curves. The Unigraphics tutorial explains the overall procedure for creating the swept feature in UG NX6 however you need practice to become perfect on it.
Related Readings
ProE Wildfire vs. UG NX 6:ProE as well as UG both are high end 3D CAD package. While comparing ProE vs. UG in this article we will discuss which one is strong in which area.
What is Suppressed Geometry in Unigraphics: Using of suppressed geometry is very much helpful if not inevitable for handling large Unigraphics model. In this Unigraphics tutorial, we will discuss about creation and usages of UG suppress geometry.