What is a BOM Table?
A Bill Of Material or BOM table is a table where details of all the components of an assembly are listed. Typically, the number of rows of a BOM table is equal to the number of components used in the assembly plus one. And number of columns should be three namely, serial number of components, component name and quantity. However, the number of rows and columns could be varied from organization to organization.
How to Use Repeat Region in Pro Engineer for Creating BOM Table
Create the ProE assembly for which you want to create bill of material table.
Save it.
Create new drawing of the assembly.
Insert any of the view of the assembly in the drawing.
Go to Table>Insert>Table.
Click on the drawing screen for locating top left corner of the table.
You will see, 0 to 9 all the numbers appears horizontally, click thrice horizontally for specifying width of three columns of the table.
Press middle mouse button (MMB).
The numbers have appeared vertically downward now. Click two locations vertically downward for specifying row width.
Press MMB, a blank table of three columns and two rows will appear.
Double click the top left field of the table and write Index in Note properties dialogue box.
Similarly double click the next field and write Part name.
Write Quantity in the next field.
Click on any field of second row of the table.
Go to Table>select>row, the second row will be highlighted.
Right click in second row and click Add repeat region.
Go to Table>Repeat region, click No Duplicates and then Done/return and Done.
Double click in the first field of the second row, Report symbol window will open.
Click on rpt… and then index, rpt.index will appear in the field.
Double click in the second field of the second row and click asm… then mbr… and then name; asm.mbr.name will appear in the field.
Similarly select rpt.qty for the last field of second row.

The BOM table should now look like below: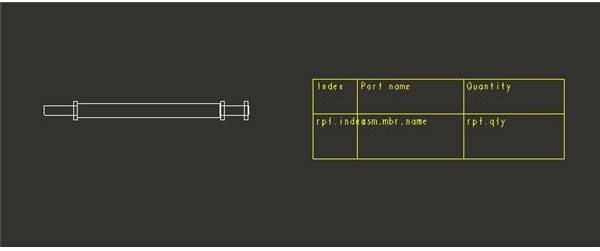 Go to Table>repeat region>update table, and your final ProE BOM should look like below: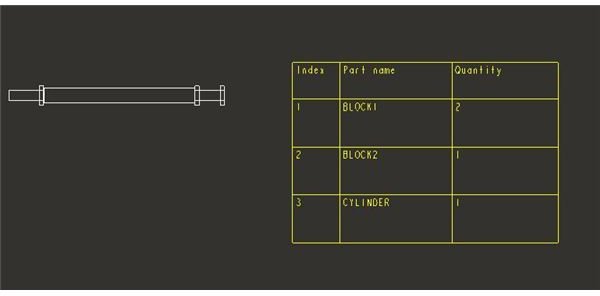 Conclusion
Repeat region is very useful option in ProE for creating BOM automatically. In this Pro Engineer tutorial we have discussed about creation of bill of material table for three assembly parameters. However, using ProE repeat region any numbers of assembly parameters can be used for BOM table creation.
Related Readings
How to create and use UDF in pro engineer: User defined feature (UDF) is a tool by using which you could slash down your modeling time. Using UDF is meaningful when you are dealing with a group of features repeatedly.