Machine Design Cycle or System Design Cycle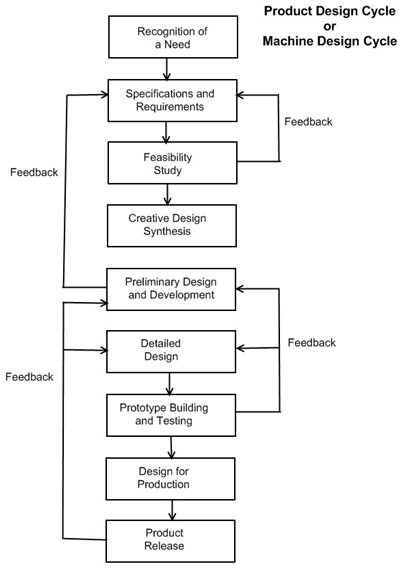 What is System Design
Whenever the new product or the machine is to be design there is a cycle of the steps that are followed. The sequence of the events in the machine design or system design have been codified Asimow, who is considered to be the father of system design or machine design. This sequence of steps is called as system design cycle or machine design cycle. For solving any problem related to engineering design and machine design or mechanical design the general procedure of laid out by it can be followed.
Here are the steps of the sequence of system design cycle or machine design cycle:
1) Recognition of a need
2) Specifications and requirements
3) Feasibility study
4) Creative design synthesis
5) Preliminary design and development
6) Detailed design
7) Prototype building and testing
8) Design for production
9) Product release
All the above steps of the system design or machine design cycle have been shown in the accompanying figure. Some of these steps have been looped in order to show that at some particular points the previously taken steps may have to be taken again. Say for instance, after carrying out the feasibility study, if the project is found feasible the next step is taken and if it is not found feasible it can be sent back for the change in specifications and then again studied for the feasibility. This process will continue until some certain conclusion is arrived as whether to take next step, or ask for more changes or abandon the project entirely declaring it unfeasible.
The steps given above are same for the system design cycle and machine design cycle, however, since we are considering the design of machine and machine elements, here we will be frequently using the term machine design instead or the system design, but the steps will be same for both.
Let us understand all these steps one-by-one in details. They have been shown in the figure for clearer understanding of the individual steps and loops in the cycle. The first and most important step of the system design or machine design is recognition of need.
System Design Cycle or Machine Design Cycle
Reference
Book: Machine Design by Dr. P. C. Sharma and D. K. Aggarwal
This post is part of the series: System Design Cycle or Machine Design Cycle
Whenever the new product or the machine is to be design there is a cycle of the steps that are followed. The sequence of the events in the machine design cycle or system design cycle have been codified Asimow, who is considered to be the father of system design or machine design. Here they are: