Basics Of Jackhammers
Jackhammers are drills that are generally used for the demolishing of concrete pavement, roads, and rocks. Jackhammers are also extensively used in the mining industry, excavation works, and construction projects. There are several categories of jack hammers, all designed to increase the blow and speed of work. The main types are pneumatic that performs by the high pressure of air from an air compressor. Hydraulic jackhammers operate by hydraulic energy from some fluid. The third kind is the electric jackhammers that function by electric power. This machine is suitable for minor maintenance and construction tasks. It does not need much energy to operate and will be operative as soon as it is connected to an electrical socket. The jackhammers are extremely useful for the preparation of building foundations. The jackhammer is considered to be one of the most widespread robust tools that are being utilized in construction engineering and other disciplines of engineering. The jackhammer tools and jackhammer bits should be carefully selected according to the type of work.
How To Use A Jackhammer
The jackhammers are fairly tiring to control considering the heavy tasks being performed, for which professional skills are essential. Generally, the jackhammer bits are extremely hot during operation, for which special care should be taken. The remaining parts are
also warm, and the operator should be careful during the work. The jackhammer is not practical for operation on steep slopes and walls, since it is dependent on the inertia of the body mass, to force the bit into the material. Also, for the tool to be efficient, gravity is necessary to bring the machine back into contact, after every blow. The jackhammer is normally used by bending over the tool to operate it. A method being practiced for horizontal operation of the jackhammer is that one man operates the jackhammer, while another supports the hammer on his arms, or the shoulders. The combined weight of the two men is used to force the tool bit into the work.
Precautions During Jackhammer Operation
The jackhammer is used for drilling and the tool bit revolves at a high speed due to which excessive vibrations are produced. Therefore, it is essential that the requisite safety precautions must be observed during the operation of a jackhammer. The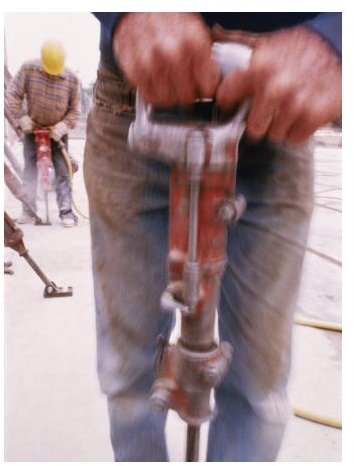 jackhammer must be positioned at a small angle. This arrangement facilitates an effective tool control, and prevents the tool becoming stuck in the work. Appropriate bits should be used that should be commensurate with the nature of work. Chisel points are utilized for concrete work, while spade points and rock points are used for asphalt and rock surfaces respectively. Personal safety should be the primary concern when operating a jackhammer. The operator must wear suitable dress that normally includes durable gloves, boots with steel toe, shirts with long sleeves, overalls, and hearing and eye protection.