Dial Gauge or Dial Indicator: Sets, Points, Parts of Dial Gauges or Indicators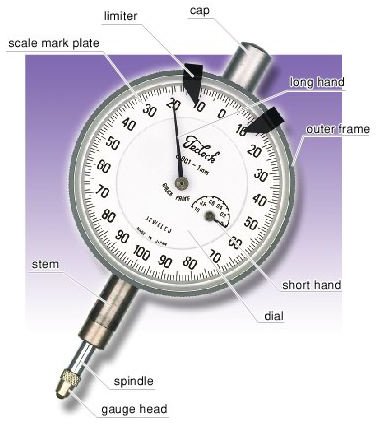 Do you know how small linear distances are accurately measured? Do you know that the instruments used in measuring small linear distances are called dial gauges or dial indicators? Yes, dial indicators are used in industrial and mechanical processes in the measurement of linear distances. These devices are so termed dial indicators because the results are magnified by a "dial".
Although dial indicators are used widely in various applications in industrial processes, these devices are also important in manufacturing. Its importance in manufacturing includes consistency and accuracy checks in the different processes. Accuracy and consistency are two of the most important characteristics that are desired in any manufacturing process. The outcome of these processes depends on the accuracy of the process itself, such that monitoring the accuracy is vital. In addition, dial indicators are also used for the initial set-up or calibration of a machine. Furthermore, in cases where accurate measurements are needed, dial indicators are required.
On the other hand, dial indicators are correspondingly used in metal engineering workshops for the centering of workpieces in a lathe machine's four jaw chuck. In machining, centering the workpiece is very important in order to achieve the desired specifications. The accurate centering of the workpiece can only be done with the aid of dial indicators. Moreover, these devices are also used in run out checks before a new disk is fitted into an automotive disc brake. With all these significant applications, it is no wonder why dial indicators are not only used in manufacturing and engineering, but in metrology as well. Dial indicators do not only achieve accuracy and precision, but exactness as well.
In order to understand better how dial indicators work, it is important to know its basic parts and how each of these parts function.
Graduated dial and needle. These are responsible for recording the minor increments that result out of the measurement procedure.
Embedded clock face and needle. These are smaller than the graduated dial and needle and are used for recording the number of needle rotations in the main dial.
Plunger. This component is the moving part of a dial indicator that moves perpendicular to the object being tested. The perpendicular movement is achieved by extending from the body of the indicator, or by retracting from it.
Basically, dial indicators are classified according to their special applications. The types of dial indicators include the probe indicator, dial test indicator (DTI), contact point, and digital indicator.
Probe Indicator. This indicator features a dial face that can be rotated to any position. The set-up is quite convenient because the orientation of the face is toward the user which is correspondingly set as the zero point.
Dial Test Indicator. This is also known as a finger indicator or a lever arm test indicator. This is so because this indicator measures the deflection of the arm which is achieved as the arm swings in an arc around the hinge point.
Contact Point. This indicator features a probe that can be interchanged with different sizes and shapes suitable for specific applications. The shape of the probe is responsible for establishing the point contact.
Digital Indicator. With this indicator, digital displays are used in replacement of analog display. Digital display allows the recording and transmission of data into a computer which results into minimal reading and recording errors.
Fig.1. Parts of a Dial Indicator
Images. https://www.teclock.co.jp/ENG01.html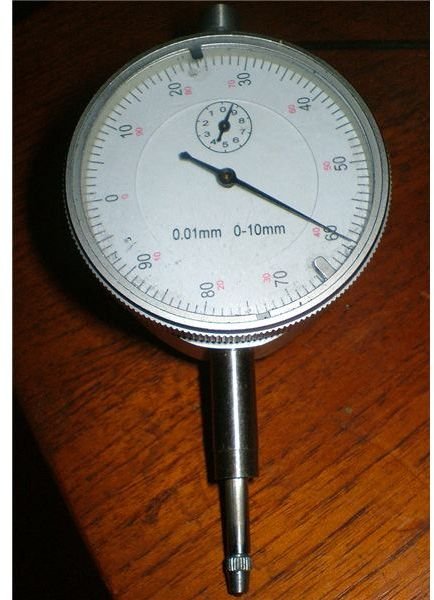 Fig.2. Typical Dial Indicator
Images. mini-lathe.org.uk