Advantages of the Radial Drilling Machine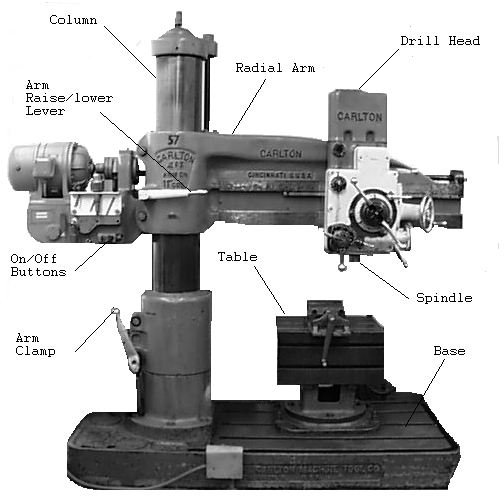 Radial Drilling Machine
A radial drilling machine or radial arm press is a geared drill head that is mounted on an arm assembly that can be moved around to the extent of its arm reach. The most important components are the arm, column, and the drill head. The drill head of the radial drilling machine can be moved, adjusted in height, and rotated. Aside from its compact design, the radial drill press is capable of positioning its drill head to the work piece through this radial arm mechanism.
This is probably one of the reasons why more machinists prefer using this type of drilling machine. In fact, the radial drilling machine is considered the most versatile type of drill press. The tasks that a radial drilling machine can do include boring holes, countersinking, and grinding off small particles in masonry works.
Although some drill presses are floor mounted, the most common set-up of radial arm drill presses are those that are mounted on work benches or tables. With this kind of set-up, it is easier to mount the drill and the work pieces. There is no need to reposition work pieces because the arm can extend as far as its length could allow. Moreover, it is easier to maneuver large work pieces with the radial arm drilling machine. Large work pieces can be mounted on the table by cranes as the arm can be swiveled out of the way.
Here are some of the major parts of the radial arm drilling machine:
Column - is the part of the radial arm drill press which holds the radial arm which can be moved around according to its length
Arm Raise - adjusts the vertical height of the radial arm along the column
On/Off Button - is the switch that activates and deactivates the drill press
Arm Clamp - secures the column and the arm in place
Table - is the area where the work pieces are fed and worked on
Base - is the radial arm drill press part that supports the column and the table
Spindle - is the rotated part of the drill press which holds the drill chuck used in holding the cutting tool
Drill Head - is the part of the drill press that penetrates through the material or work piece and drill through the specific hole size
Radial Arm - holds and supports the drill head assembly and can be moved around on the extent of its length
There are a number of advantages of using the radial arm drill press. One of these advantages is the amount of area that it can cover which is only dependent on the length of the arm. Another advantage is the considerable size of work that it can handle since the arm can actually swivel out of the working area allowing cranes and derricks to place work pieces on the table. Finally, less effort is required during the drilling process because the arm assembly seemingly is doing all that is needed for specific tasks to be completed.
Images
Parts of a Radial Arm Drilling Machine
Image: its.fvtc.edu