Tips for Successful Machine Tool Broaching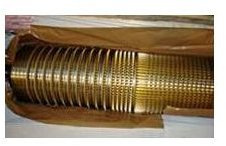 What is broaching?
Broaching is a machining process where the cutting motion is linear. The tool has multiple teeth with increasing height (that are called increasement) and arranged in series with the cutting depth (pi). The tool has a great length and can be forced by traction or compression on or off the work piece.
The operation consists in removing chips from the material in order to build flat surfaces, or internal or external shapes.
Cutting speed
The cutting speed in broaching is determined by several factors, such as the shape of the cutting edge, the incidence angles of cutting, the workpiece material, the depth of cut, the broach material, etc.
The table below has the reference values for the broaching of different materials using a high speed steel (HSS) broach.
Steel 500 to 700N/mm2: 5 - 8 meters per minute
Steel 700 to 800N/mm2: 3 - 6 meters per minute
Steel 800 to 900N/mm2: 1 - 3 meters per minute
Malleable Iron: 5 - 9 meters per minute
Cast iron: 6 - 9 meters per minute
Brass or bronze: 8 - 12 meters per minute
Aluminum: 10 - 14 meters per minute
Zinc (diecast): 20 m - 30 meters per minute
For the broaching of other materials, these speeds should be multiplied by the factors below, because of the hardness of the workpiece material to be broached.
Carbon steel: 0.50
High Speed Steel: 1.00
High Speed Steel with 5% Cobalt: 1.15
High speed steel with 8% Cobalt: 1.25
High Speed Steel with 12% Cobalt: 1.40
Ultra-fast alloys: 1.80
Sintered carbides: 2.50 to 3.00
These values are considered conservative and may be outdated, but it is recommended to start with moderate speed and increase it gradually, ensuring a risk-free operation. Due to the high cost of such tools, any tool breakage can greatly impact the cost of production.
Broach coatings
Many coatings available in the market can increase performance during broaching, allowing it to achieve higher cutting speeds and rarely have a significant influence on the the tool cost. Some popular coatings are TiN and TiNC, that allows an increase of up to 30% in the cutting speed.
Other options are the synthetic diamond coatings, that are usually expensive, but allow cutting speeds up to 60% higher.