Introduction – How Release Pins Work?
Firstl, let's consider how quick release pins function generally. The adjacent joining parts can be released quickly since the elongated-pin contains a torsion member. This torsion member provides flexible arms that terminate in looped-ends that are arranged to project from opposite sides. This way, withdrawal from adjacent parts is prevented until the pin is extended with enough force to be looped back into the interior. This torsion member offers a pre-stress stroke through the coil-portion, therefore engaging the walls of the cylindrical niche in the pin, further diverging through the straight arms to extend from the coil part linearly with the wall surfaces of the niche.
Classification
Mainly utilized for rapid disassembling and assembling, the quick-release-pins make use of a method to give a locking-action. They utilize a clearance-fit into the holes and are categorized into two main types:
Push-pull pins
Positive-locking pins
We will review each type below.
Quick Release Pins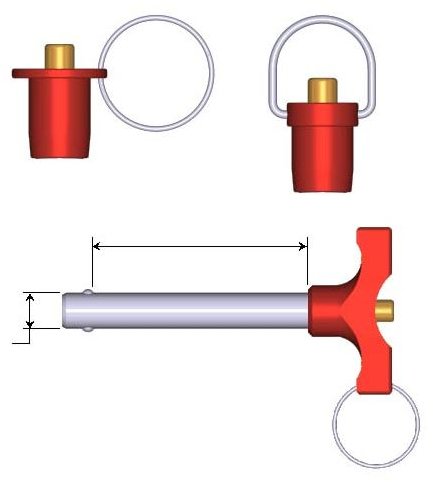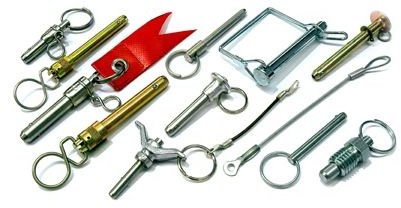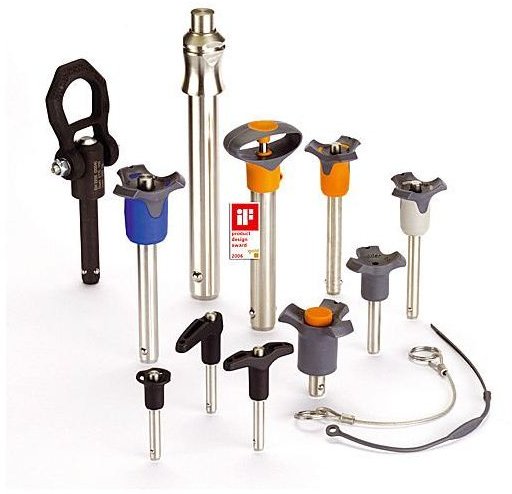 Push-Pull Pins
Push-pull quick release pins are made using a hollow or solid shank containing a ball, locking lug, or button which is backed-up by means of a spring, plug or resilient core. These pins are 0.002-0.004 inches undersized so as to fit whichever hole-drilled to the normal-diameter sizes. The primary task of these quick release pins was just fastening up parts under the shear loading. The locking method is designed in such a manner to provide safe retention from accidental disassembly. In case of huge loads, these pins are not suggested.
Positive Locking Pins
Positive-locking quick release pin has locking action which is independent usually of the insertion and removing forces. These primarily suite applications like shear-load ones even though some amount of tension loading is tolerated without distressing the pin function. Further, these pins can be classified into 3 types:
Double-acting pins
Single-acting pins and
Heavy-duty cotter pins
Heads and Handles
Quick release pins can be also separated by head/handle type. There are:
Round Head Quick Release Pins
L-Handle Quick Release Pins
Ring handle Quick Release Pins
T-Handle Quick Release Pins
Some Examples
Below are two examples of quick release pins available in the market.
'Jergens KLB-03-08 Stainless Steel Kwik Lok Pin W/ Button Handle, 3/16" OD, ½" L' is a round head quick release pin. These kinds of pins are applicable for applications which have restricted space. This Stainless Steel pins are utilized in several locking-pin applications which involves corrosion resistance.
'Jergens KLIM-0-10 Stainless Steel Kwik Lok Pins L-Handle 5mm OD 10mm Grip Length' is categorized as an L-handle quick release pin, which provides a firm-grip for uses where a T-Handle does not fit.
Summary
Quick release stainless steel pins can be utilized for several locking-pin purposes. Most quick release pins comprise of a ring such that they can be attached easily to the lanyard. These quick release pins can be used in several areas like:in the retaining shops on equipment on high-performance-yachts, dis-assembling for cleaning and retaining the bodywork on the racing cars, military vehicles, aircraft, and helicopters.
References
https://machinedesign.com/article/quick-release-pins-1115
https://www.specialty-fasteners.co.uk/category_sublist.php?catid=136&colorid=6&procatid=140