A Guide to Machine Design - Thread Standards Overview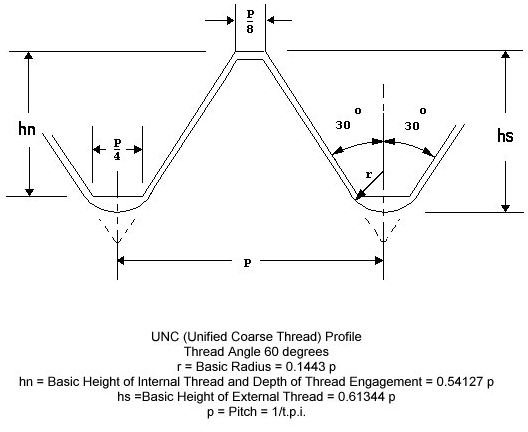 Introduction
There are many threads used in different applications.
The standard ISO, UNC, UNF and other, the extra fine UNEF threads, used in delicate mechanisms, the NPT threads used in fittings, British BSF, and BSP.
Here is a list of some most common threads:
National Coarse (NC USA)
Unified National Coarse (UNC USA)
National Fine (NF USA)
Unified National Fine (UNF USA)
Unified National Extra Fine (UNEF USA),
Unified National 8-, 12- and 16 pitch series (UN USA),
Special Threads of American National Form (UNS USA),
National Taper Pipe 1:16 (NPT USA),
National Taper Pipe Dryseal 1:16 (NPTF USA),
National Standard Straight Pipe (NPS USA),
National Standard Straight Pipe for free fitting mechanical (NPSM USA)
National Standard Internal Straight Pipe Dryseal (NPSF USA)
British Standard Withworth Coarse (BSW)
British Standard Fine (BSF)
British Standard Pipe (BSP)
British Standard Pipe Taper (BSPT)
Similar yet Different
While most American and European international standard threads use a thread angle of 60 degrees, various types of thread standards available in Great Britain have a thread angle of 55 degree.
Sometimes the specifications and standards are complementary or supplementary. For example UNC, the Unified Coarse Thread is very much comparable with the ISO metric standard, and those can sometimes be used together.
Thread Data
The data for each standard thread should contain the following features:
Incline angle – is the angle formed by the two adjacent flanks.
Pitch – is the distance from one thread groove to the next.
Pitch diameter – It is defined as the measured length between the pitch points taken in the groove between the threads. This is an important measure of the quality. There are also major and minor diameters that can be calculated from the pitch diameter and the incline angle.
Tolerance – is the limit of the acceptable deviation from the intended design to the manufactured threads. This is very important for testing purposes done in various ways. One of the important methods to assure the quality standards is gauging inspection. This is the physical inspection of the thread for the features using a device with an established standard size. The result of the gauging inspection will be a pass/fail or go-no go condition.
Depth of a thread - is the length of the space measured between the base and the top. This is the distance from the crest to the base of the root.
The thread name is usually a combination of the above data. Understanding thread specifications will be covered in the next article.
Thread Standards