How to Use a Mechanical Drafting Machine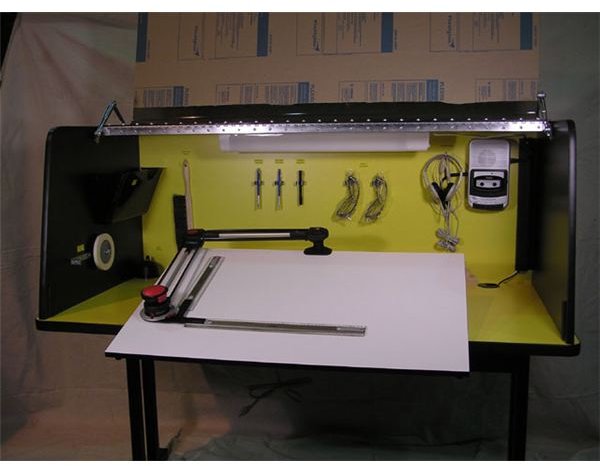 In this era of advanced workstation PCs and computer aided drafting and manufacturing (CAD-CAM), a traditional mechanical drafting machine is still a very useful tool in technical drawing used in many engineering offices and drafting rooms.
Using an Indusrial Drawing Board
A drafting machine consists of an articulated protractor head that allows an angular rotation and a pair of scales attached at a right angle for rotation of the table. Drafting machine work is achieved with some combination of other instruments including a drafting compass, T-square, triangle, and drafting mechanical pencils. These tools are used to measure all angles and to draw horizontal and vertical lines.
Standard drafting machines are the universal type and the track type. Both have multiple, different graduation scales. They are rigidly built machines and can accurately hold layout projects. They also provide a visible view of the drawing beneath. Graduations and numbers are on the underside of a scale, which helps to avoid parallax distortion. The graduation scales are protected by raising the rib to prevent capillary action when inking. Scales are provided from 32 and 50 parts to the inch. A standard drafting machine has a universal chuck to accommodate other drafting machines, available in 12" and 18 " lengths, with the graduation parts to the inch. Standard drafting machines come in different sizes, with many having full protective plastic dust covers large enough for both the machine and drawing surfaces.
Track-type drafting machines are complete with a drawing board that features a modern compact, precision design. Functional drawing boards with a precision ball bearing, vertical sliding track drafting system and a brake lever on vertical sliding track offer three positions. Double action hinged system allows the head and scales to be tilled vertically from the broad surface. It will also compensate for any broad irregularities. 150 degree drawing head with two sets of Plexiglas scales is included- one set is metric and the other is in full and half inch graduations. The tracking drafting machines are designed to have an easy rotation of the protractor head with a quick release mechanism when depressed by a thumb. They also have index settings at comfortable 15 degree with intermediate lock and good adjustment
Drafting Work Station - Components
A standard mechanical drafting station will comprise some fluorescent lights, a locking desk with a see-through pull-up top, a built in lock with key, a power strip, drafting board mat, board riser, steel backstop, top support, and laminated work surfaces. These work stations are designed for typical technical drafting operations. Components are available for different configurations of the stations.
Helpful Tips for Users
Mechanical drafting is highly skillful. New users will have the important task of developing drawings needed to manufacture a wide array of mechanical devices and machineries. The occupation is a good choice for individuals who are mechanically inclined and detailed oriented or new users wanting to make careers in mechanical drafting. Drafting is a specialist career in technical drawing that solely concentrates on defining blue print of machines and components used by engineers on a daily basis.
It can help users develop solid drafting techniques, skills, both knowledge of machine components, manufacturing processes and applications. Users can also develop basic drafting skills and learn the different terminologies used in the drafting processes, including projections and geometrical methods. This core mechanical drafting will teach new users how to draw, interpret, and present orthographic and isometric designs of mechanical products and their individual components.
Mechanical drafting focuses on dimensioning and tolerances, sectioning, fastenings, and pictorial drawings. Mechanical drafting goes into further instruction regarding areas like mechanical and structural detailing, contour mapping, electrical-piping-fluid power schematics and kinematics.
To help and support new users in a mechanical drafting career, new users will learn how to operate the drafting machine, identify drafting tools, be able to set square paper, understand the use of scales (like horizontal and vertical types), and arrange title blocks. The user must also be familiar with protractor dial/arm adjustment and use the mechanical drafting machine to produce technical drawings and other conditions in force relating to the job description.
Conclusion
The mechanical drafting machine has long been a conventional (table) method used in many industries to produce technical drawings of mechanical parts and components of mechanical system. They evolved to use a predictable, combined set of specific tools so any draftsman would know what to expect to have available when using one. Today employers and drafters are looking for computer aided design because it is both versatile and fast in drafting production. However, there are still many of these machines around, and they still find use. Both the CNC/CAD/CAM technician and the draftsperson today provide a company with manufacturing support.
References
Mechanical drafting www.draftingzone.com
Vemco Drafting Products www.vemcocorp.com
Drafting Steals www.draftingsteal.com
Image: Courtesy of Vemco