Introduction
Many workers in the United States are injured or killed by the accidents due to electrical arc flash. Actually, a great amount of energy liberates from electrical equipment due to arc flash. This energy is much enough to injure or to kill a person.
Basic cause of an arc flash
Electrical equipment is designed to withstand up to a certain amount of current. The arc flash occurs when an electrical device suffers very high amount of current within a fraction of a second. For example, a device that can withstand up to 60 amps current is subjected to a large amount of current between 20,000 to 40,000 amps within 0.01second.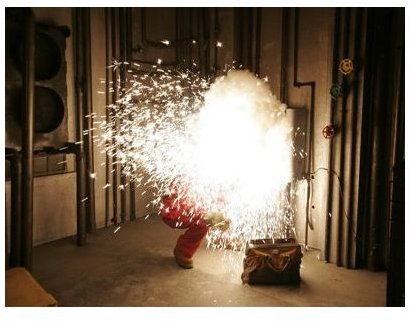 Arc flash when racking a circuit breaker
It has been seen that the operation of racking and un-racking a breaker with the circuit under load is the riskiest operation that causes arc flash. During this process, the arc flash can reach temperatures up to 35,0000 F. This high temperature converts copper conductors to a plasma state.
The change in the state of copper results in a 67,00 times increase in its size, and the whole process requires only a fraction of a second. This quick operation develops a pressure of thousands of pounds per inch. It is similar to a dynamite explosion at a distance of two feet from the worker.
Other most common places where arc flash may develop are at a fused disconnect, a transformer, metal clad switch gear, motor control center, and in a panel board.
Most important step to avoid arc flash
You should not work on any energized equipment or machine. Firstly, you should turn the object off before doing any repair. This is the best way of avoiding arc flash. The object will be de-energized after turning it off. However, it is not always possible to de-energize the object. Sometimes, you have to work on live machine. Therefore, you will need to follow some important steps that reduces the risk of arc flash.
How to avoid electrical arc flash accidents
There are many effective tips that can help to prevent the occurrence of arc flash. These tips are given bellow –
Must-read electrical safety policies
You must read the electrical policies provided by the officer of the company's electrical safety department. These policies are in the form of written documents. They have all types of information, which will help you to avoid any accident due to arc flash. This is your fundamental way to safety.
Always read warnings labeled on the equipment
It is very necessary to service different electrical equipment periodically. You should read warnings labeled on the equipment. These warnings will help you to avoid arc flash during examination, adjustment, and servicing of the equipment. These warnings are clearly visible to everyone, and can be understand easily. Actually, these warning are carried out by conducting an electrical system analysis for determining the degree of arc flash. This analysis is done by special engineers those have a good knowledge of power distribution and control equipment.
Safety Training
You should school yourself in safety training to avoid electrical arc flash. These safety trainings are based upon arc flash accidents. However, companies are also responsible to provide safety trainings to all workers.
Use electrical protective cloths and equipment
Electrical protective cloths and equipment are provided by the company for any dangerous operation. These things will protect you from arc flash. Different cloths and equipment are specified for different tasks. Use these cloths and equipment according to the warnings labeled on the machine.
Use proper tools
You should use proper tools during servicing a machine. Use of only specified electrical tools and devices decreases the chance of accident.
Maintain all active components of the machine
Every electrical system has active components such as, fuses, circuit breakers etc. These components are responsible to protect the machine during any electrical fault. These components are also helpful to avoid arc flash. Therefore, the maintenance of electrical active components of every machine is very important.
Maintain electrical distribution system documents
Electrical distribution system documents are also important for your safety. These documents are responsible to provide information of instant working of the machine. Therefore, you should maintain and update these documents.
Keep in touch with safety manager
Always keep yourself in touch with the electrical safety program manager. If you find any problem during servicing then just ask your safety manager to help in place of going forward.
Conclusion
These are the tips to avoid arc flash accidents. Arc flash can burn you strongly, and the pressure waves from the blast are very dangerous. These waves are much enough to make you dead. Therefore, use these tips seriously. Not only the operator, anyone around may get harmed. Hence, if you are not the main operator then maintain sufficient distance from the operator of the machine during any dangerous operation.
References
Image- Arc Flash- ecom.coastal.com
Reference- datacenterjournal.com
Reference- ehstoday.com
Reference- www.cablejoints.co.uk